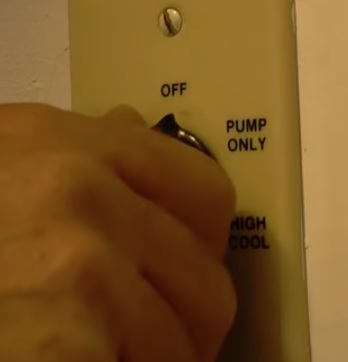 Swamp coolers have many positives about them from low-cost electricity prices to adding moisture in a home.
Most homes that have a swamp cooler use a manual evaporative cooler switch to control their swamp cooler. A manual switch simply turns a unit on or off along with other features such as fan only manually.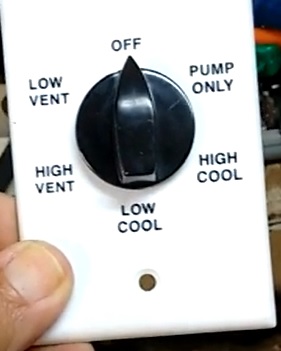 Manual switches work fine for many people but there are also set-it-and-forget options like a thermostat controls a regular air-conditioning unit.
Installing a thermostat that controls a cooler on its own with a set temperature is easy to do and common.
The wiring color codes are usually the same and even though it helps to be a handy person, installing one is not that difficult.
There are many units available with some of our favorite picks below.
As always be sure to read the reviews on Amazon or elsewhere to be sure a unit is a good fit for you.
*This post contains affiliate links.
Our Picks for Best Evaporative Swamp Cooler Thermostats
DIAL 7617

DIAL MANUFACTURING 7617 Cooler Thermostat 115/230V

The Dial 7617 is a popular digital thermostat used by many to control a swamp cooler.

Like any thermostat it can have a set temperature and will automatically turn on and off a cooler.

It also has other built-in features such as wetting the pads by turning the water pump on before starting the blower motor.

This helps maximize the cooling power and helps keep electrical cost lower.

The Dial 7617 is a good unit and worth a look for anyone looking to have an evaporative cooler turn on and off automatically.


LASCO 36-0233

LASCO 36-0233 Evaporative Water Cooler Thermostat with Two Speed Six Position Switch

This is a classical analog swamp cooler control switch that was very popular before digital became the standard.

It still is widely used but is a manual switch meaning there is no automatic on and off.

While there is many other options it is a good low-cost dependable switch that works well and gets the job done.


Nashone Wireless

Nashone Wireless Plug in Thermostat, Digital Thermostat Outlet LCD Display Temperature Controller with Heating and Cooling Mode for Portable Heater, Electric Fireplace Heater, Conditioner, Etc.

This unit from Nashone is a new unit that controls a cooler wirelessly.

It has an AC plug that goes between an appliance such as a cooler and a remote control to control it wireless.

The remote as a built-in temperature sensor to automatically turn on and off the cooler.

It is a nice controller and easy to setup by simply placing the plug between the AC outlet and cooler.

Of course the AC outlet plug location will determine if this is a good option or not.


MasterStat

MasterStat Thermostat for Evaporative Coolers

This MasterStat controller is digital and works with a 2-speed motor up to 1HP – 120 V or 2HP – 240 V

It uses a control box that works with the thermostat to control a cooler.

It does require a bit more wiring compared to other options but work very well once hooked up.


Emerson 1F51N-619

Emerson 1F51N-619 Mechanical Evaporative Cooling Thermostat


The Emerson 1F51N-619 is a classic thermostat for a swamp cooler for those who like the retro look.

It works very well and will automatically turn on and off an Evaporative cooler.

The unit is all mechanical wit a lever on the side to set the temperature range.
Best Evaporative Swamp Cooler Thermostats Comparison Chart

| Name | Temperature Sensor | Manual Switch | Wireless |
| --- | --- | --- | --- |
| DIAL 7617 | Yes | Yes | No |
| LASCO 36-0233 | No | Yes | No |
| Nashone | Yes | Yes | Yes |
| MasterStat | Yes | Yes | No |
| Emerson 1F51N-619 | Yes | Yes | No |
Summary
In the past a manual switch for a swamp cooler was the only option available but many more options can now be used.
Many people still use a manual switch since they work well and are dependable, but for those looking to shut a unit on and off automatically one of the other models would be a better choice.
Hooking up a thermostat for a swamp cooler is not difficult but does require some wiring knowledge and skills so be sure to call a technician if in doubt.
120/240 volts are commonly used in swamp coolers and precautions must be taken to prevent harm or damage to the equipment.
As always be sure to read the reviews on Amazon or elsewhere to be sure a controller is the right fit for you.