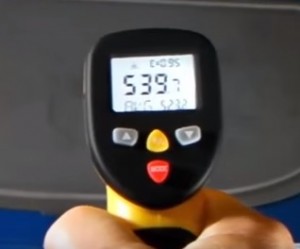 Infrared laser temperature sensor guns are very handy for an HVAC technician. I can't count how many times I have used mine when I otherwise would have had to use a ladder.
I know getting a ladder is not a big deal and it has to be done all day long but why do it if you don't have to. I have worked at a few companies that require temperature reading at the Supply and Return Air on every call.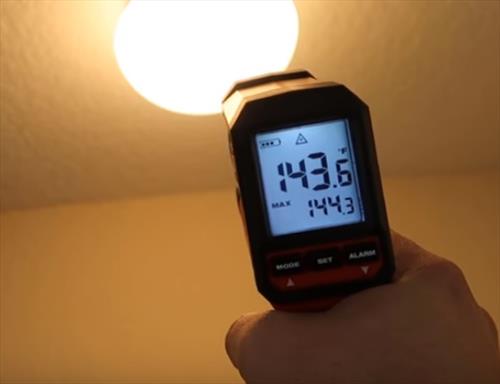 Some of the Returns can be crazy high up, placed on high ceilings which a small ladder can't reach, causing a whole effort to un-strap a ladder and carry it through someone's home simply to get a temperature reading.
Having an infrared laser temperature reader is a lifesaver in moments like that. Getting in and out quickly also saves time and money.
I have bought several over the years and they have been a real benefit in many scenarios.
One of the main things I found to look for is what is called the D/S Ratio which stands for Distance Spot Ratio.
A D/S Ratio will number look like this "8:1" or "12:1".
So, for example, a temperature gun that reads 8:1 can read a spot 1 inch wide from 8 inches away. At eight feet it would need 1 foot of space to get a good read.
There are many good units available with some of our favorite picks below.
As always be sure to read reviews on Amazon, here, or elsewhere to be sure a unit is the right pick for you.
*This post contains affiliate links.
Our Picks for Best HVAC Infrared Laser Temperature Sensor Guns
Fluke 561 HVAC Pro

Fluke 561 HVAC Pro Infrared Thermometer, -40 to +1022 Degree F Range

The Fluke 561 HVAC Pro is a laser temperature gun built for the heating and cooling professional.

It has a 12:1 distance-to-spot ratio to point at the location that needs a temperature reading.

It also has a Type K thermocouple Velcro pipe probe to take contact measurements.

The unit is very well built with the lens housing made of solid metal when most other units are made of plastic.

The Fluke 561 HVAC Pro is a very good laser gun that is worth a look for any HVAC technician.


Etekcity 1022D

Etekcity 1022D Dual Laser Digital Infrared Thermometer Temperature Gun Non-contact -58℉~1022℉ (-50℃ ~ 550℃) with Adjustable Emissivity & Max Measure for Meat Refrigerator Pool Oven (Not for Human)

The Etekcity 1022D is a low-cost unit that displays the temperature at the back.

The laser comes out the tip when the trigger is pulled with the temperature displayed at the back of the unit.

It has been available for a few years and is a budget unit that works well enough in many scenarios.


Extech IRT600

Extech IRT600 Dual Laser IR Thermal Condensation Scanner

The Extech 42515 cost more than other units but has many nice features.

One such feature is the ability to measures temperature and humidity and calculate the dew point of an area.

The unit has two lasers which are lined up to get a reading.

It also has a condensation alarm to show high water levels of an area.


EnnoLogic eT650D

ennoLogic Temperature Gun (NOT for Body Temp) – Accurate High Temperature Dual Laser Infrared Thermometer -58°F to 1922°F – Digital Surface IR Thermometer eT1050D

The EnnoLogic eT650D is a good mid-range unit.

It can read the temperature very well at a distance of 2 feet or less but can go out farther up to 8 feet.

The unit has a nice back-light and is quick and easy to use.

https://www.youtube.com/watch?v=rU7Kk4_Orqk