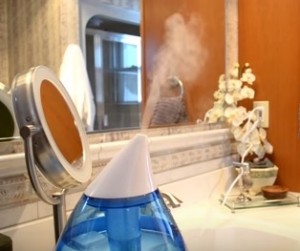 For many humidifiers are a necessary part of life from getting a good night's sleep to keeping allergies down.
One of the problems with traditional humidifiers is having to swap out a filter every few days.
This can lead to higher cost to run a humidifier. While filters don't cost a huge amount (A few bucks a piece) swapping one out every few days can add up.
One way around this is with a filter free units.
Filter free humidifiers are not completely turn-on-and-forget electronics, they do require some maintenance.
Like changing the filter on traditional humidifiers a filter-less humidifier needs to be cleaned at least once a week with constant use.
This is one of the complaints many have about using a filter-less humidifier is If it is not cleaned than it will begin to smell up the house.
Cleaning the humidifier is easy and the standard item to used is white vinegar to clean them.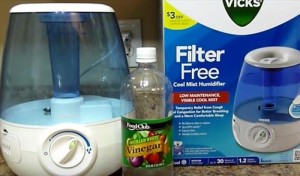 Each unit will have its own cleaning instructions which will soon become second nature.
Noise and Light levels
How loud a unit is can also be a concern.
While I haven't ever run into a unit that sounded like a freight train, if you have a high sensitivity to sound levels while sleeping definitely read the reviews for sound levels.
Light produced by some units also cause some people discomfort while sleeping.
Again these things dont bother me but if you like to sleep in a completely darken room read the reviews for how bright the light levels are.
*This post contains affiliate links.
Our Picks for Best Filterless Humidifiers
Vicks FilterFree Humidifier

Vicks FilterFree Humidifier

Vicks has many good humidifiers with this being their newest filter free model.

The combination of price, easy to clean, and durability make it a good choice.


Honeywell Designer Series

Honeywell Designer Series Ultrasonic Humidifier

Honeywell brings a sleek design to their filter free model.

It is also a quiet unit that can run up to 30 hours on a tank of water depending on settings, with 8 hours being the norm.

If your looking for a modern design compared to traditional humidifier this is a good option.


Honeywell Easy-Care

Honeywell Easy-Care Cool Mist Filter Free Humidifier, HUT-200

The Honeywell model come in a nice design.

One of its best features is easy of cleaning with parts able to be simply put in a dishwasher.
Summary
Filterless humidifiers have a benefit over filtered humidifiers in money saving cost over long term use.
If you only use a humidifier once in a great while than a filtered unit would be best, but for users who run a humidifier constantly filter free units can save money.