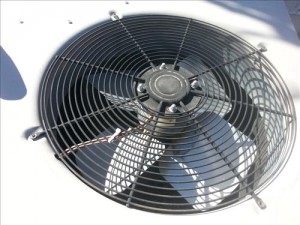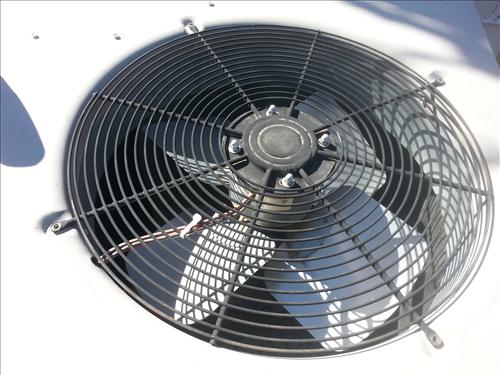 A condensing fan motor is an important component of an air conditioner or heat pump unit.
It is a component that turns on and off frequently and moves air away from the condenser.
What Is a Normal Temperature for a Condensing Fan Motor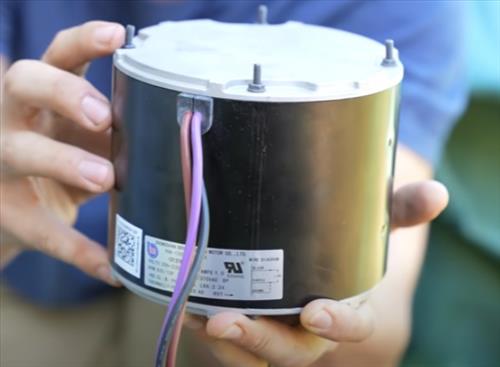 A Condensing fan motor usually operates at a temperature of roughly 150 degrees Fahrenheit.
Condensing motors can vary in build, but most should not get over 170-190 degrees Fahrenheit.
Check the manual for the unit to see what the normal operating temperature is for the motor.
The Condensing fan motor should never be overheating, whether it be a heat pump, air conditioner, or split system.
The motor temperature can be measured with a thermometer.
HVAC technicians often use infrared temperature guns to read the temperature without ever touching the condensing fan motor, but a standard thermometer will also work.
Every condensing fan motor has a temperature it can safely operate at. This operating temperature is usually labeled on the side of the motor tag, which also has all the information about the motor.
Most motors run around 70 degrees Celsius or 150 degrees Fahrenheit.
Sometimes the name tag can be easily seen, and sometimes it will have to be lifted out to see. Lifting out a motor is easy as they are usually mounted to a circular grate that has 6-10 screws holding it in place.
What Causes a Condenser Fan Motor to Overheat?
Bad Motor
Bad Start Run Capacitor
Incorrectly Sized Motor
Over-amping
Fan Blade Positioned Wrong
Poor airflow
The most common cause of a condensing fan motor overheating is a bad motor or bad start run capacitor.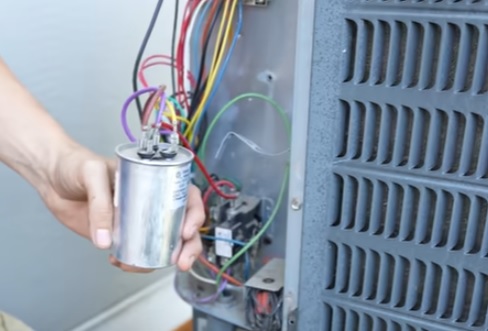 A motor that is over-amping usually has a bad start run capacitor.
A fan blade installed wrong with the wrong depth or the blades are backward can also cause overheating.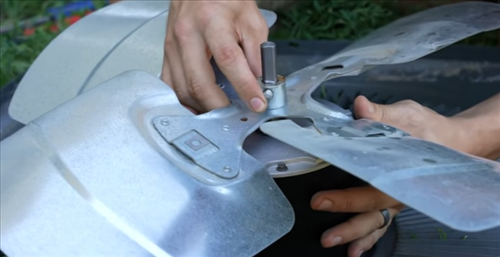 Before removing a bad motor, be sure to note the depth the blades are at in the unit so they can be positioned correctly when the new unit is installed.
Also, before working on a unit, be sure it is off when removing any screws. HVAC technicians pull the disconnect or turn the power off at the breaker to the unit before doing any work. No one wants a unit to kick on, spinning the blades while they are working on it.
How to Check a Why a Condensing Fan Motor is Getting Hot
If the temperature is too high, the motor may be bad, or something is causing it to over-amp. The usual cause of an over-amping condensing fan motor is when it has a failed start run capacitor or wrong fan blade position. If no work has been done to it lately, most likely the start run capacitor has failed or the motor has gone bad.
If the unit has been worked on recently, check the fan blades are positioned correctly.
The fan blades should not be backward and should be at the right depth.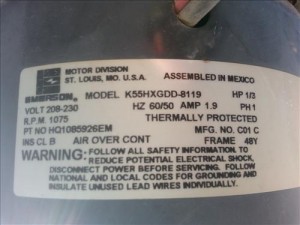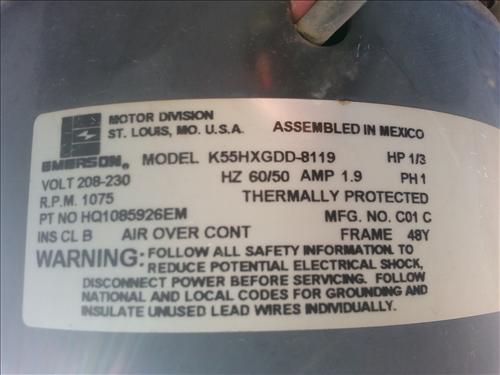 Replacing a condensing fan motor is fairly simple and can save you a lot of money for the DIY (Do it yourself) type of person. An HVAC company will charge roughly 400-500 dollars, maybe more, to come out and fix it for you. While buying a new motor yourself costs roughly 60-150 dollars.
Of course, care has to be taken; if a motor or start run capacitor is wired wrong, then it can burn up a motor and cost more money. If you have wired up a wall socket, roof fan, or other electrical household items, more than likely, it will not be a difficult job.
There are many YouTube videos and books that can show the necessary steps.
Replacing the start run capacitor should also be done at the same time. Using the old start run capacitor with a new motor can damage a new motor.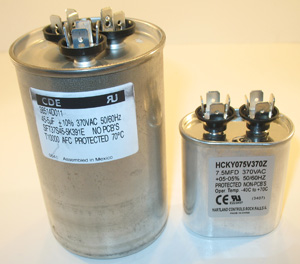 The information needed for buying a new motor and capacitor is written on the side of each.
The problem for many DIYers is that places like Home Depot or any home supply store do not carry these parts. Finding an HVAC service company that will sell you the parts is an option, but they usually mark up the prices when they sell to a homeowner. The good news is that these parts can be easily ordered online at Amazon or eBay.

Example Condensing Fan Motor On Amazon.
Fasco D7909 5.6-Inch Condenser Fan Motor, 1/4 HP, 208-230 Volts, 1075 RPM, 1 Speed, 1.8 Amps, Totally Enclosed, Reversible Rotation, Ball Bearing


The same can be done with the start run capacitor by looking at the tag for the MFD and voltage.

Example Start Run Capacitor On Amazon.
35 + 5 uf MFD 370 Volt VAC – GE Round Dual Run Capacitor

For all the Do-it-yourself home people out there, replacing a condensing fan motor and start run capacitor will be a great way to save money.
Of course, if in doubt, be sure to call a professional.