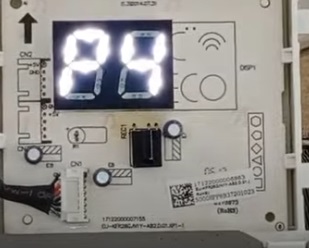 A P4 Error on some mini split units indicates a problem with the compressor.
This includes Pioneer, Carrier, Midea, BlueStar, and more units, but be sure to check the error codes for your specific unit.
There can be a difference in errors depending on the manufacturer and model, so always verify your mini split error code with the manual for the unit.
What is a Mini Split P4 Error Code?
A mini split P4 error code is an "Inverter compressor drive error."
Causes can include low voltage, faulty outdoor fan motor, wiring, circuit board issues, faulty compressor, and more.
Voltages and components will need to be checked and tested to see what the problem is.
Causes of a Mini Split P4 Error Code?
Overcharged
Low Voltage
Outdoor Fan Motor Failure
Faulty Circuit Board
Wiring (Open/Short)
Faulty Compressor
Causes and Fixes Mini Split P4 Error Code
Check Voltages


Check the voltage going into the unit is correct.

For example, if the unit is 240 volts, be sure it has the correct 220-240 volts.

The voltage can also be checked at the compressor.

The compressor will have a voltage range it can work in. Otherwise, it will not start.

Check Outdoor Fan Motor


The outdoor fan motor should be spinning and not blocked by any debris.

If it is not spinning, then the fan motor likely has failed.

Also, be sure nothing is blocking the fan from blowing air out from the unit, such as weeds or any other debris.

Check Circuit Boards


The circuit boards can also be examined to see if there are any issues.

While troubleshooting a bad circuit board can be complex, they can be examined for any physical damage.

Often, a bad circuit board may have a burnt spot or have a smell of smoke.

Check Wiring


The wiring can also be examined to see if anything looks damaged or has a bad connection.

Sometimes, small animals can chew on wires, causing problems.

If a connection looks to be bad, it can be unplugged and plugged back in to be sure it has good contact.

Test Inverter Compressor


The compressor can also be tested with a multi-meter.

The windings can be tested for continuity, and they should all have equal resistance.