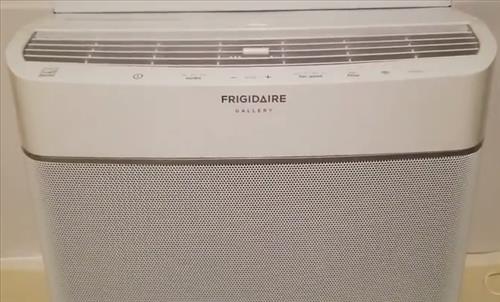 Window air conditioners are very popular since they are easy to set up and start cooling a room quickly.
There are many Window units available, from units that have manual controls to new Smart WiFi units.
Smart Window air conditioners have started to be introduced, including WiFi and Voice Controlled with Alexa.
Most all Smart Window A/C units will be controlled with an App and will usually be Android and Apple iOS compatible.
Be sure to read the specification on a unit to see its compatibility.
There are many good units available, with some of our favorite picks below.
As always, be sure to read the reviews on Amazon, forums, here, or elsewhere to be sure a unit is a good fit for you.
*This post contains affiliate links.
Our Picks for Best Smart WiFi Window Air Conditioners
Frigidaire FGRC0844S1

Frigidaire Smart Window Air Conditioner, Wi-FI, 8000 BTU, 115V, Compatible with Alexa

Frigidaire has introduced a few Smart Window A/C units, including this unit with built-in WiFi and Alexa controls.

It is an 8,000 BTU 115 Volt unit rated to cool a space up to 350 square feet.

The design is new and fresh compared to the old classical box models.

An App is used to control the unit and has a lot of control features.

The setup is easy by pressing a WiFi button on the case and connecting to it with a smartphone.

Frigidaire FGRC1244T1

Frigidaire 12000 Cool Connect Smart Window Air Conditioner with Wifi Control, 12,000 BTU

Frigidaire also makes larger units that cool a bigger space.

It also has WiFi built-in and is controlled by the Frigidaire App.

Frigidaire has a few different-sized models to fit almost any scenario.

LG LW1217ERSM

LG LW1217ERSM Energy Star 12,000 BTU 115V Window Mounted Air Conditioner with Wi-Fi Control

LG is another top A/C manufacturer, including the LW1217ERSM WiFi unit.

It is a 12,000 BTU 115V Volt unit with three cooling speeds.

An App is used to control it that is both Apple iOS and Android compatible.

Kenmore Smart 04277087 Room Air Conditioner

Kenmore makes the 04277087 that, is also a Smart AC Window air conditioner that has built-in WiFi and works with Alexa.

It has an 8,000 BTU capacity that is rated to cool a space 300-500 square feet.
Comparison Table

| Unit Name | BTU | Cooling Capacity | Voltage |
| --- | --- | --- | --- |
| Frigidaire FGRC0844S1 | 8,000 | 350 Sq Ft | 115V |
| Frigidaire FGRC1244T1 | 12,000 | 550 Sq Ft | 115V |
| LG LW1217ERSM | 12,000 | 550 Sq Ft | 115V |
| Kenmore 04277087 | 8,000 | 350 Sq Ft | 115V |
Summary
Controlling a Window Air Conditioner over WiFi is easy to do with the right unit.
Almost all will work with Android or Apple devices, but be sure to check the features.
Often this includes voice controls with virtual assistants such as Alexa and from a smartphone App.
Many apps can even control a unit when away from home, turning it on or off as needed.
Even though the unit has wireless built-in, they will also have manual controls on the case and, most often, a remote.
Also, be sure of the measurement needed to be sure a unit will fit correctly.