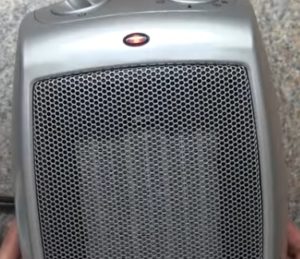 Portable heater can be a real benefit in the winter, from a under performing house unit, to heating a space such as a garage.
Units that have a thermostat are great since they turn on and off automatically.
Here is our list of the best portable heater that also come with a thermostat.
As always be sure to read the reviews on Amazon or elsewhere to be sure a unit is the right fit for you.
*This post contains affiliate links.

Our Picks for Best Portable Heaters with a Thermostat
Lasko 754200

Lasko 754200 Ceramic Heater with Adjustable Thermostat
Lasko makes many good units including the 754200 model.

It is a low cost with three setting 1500-watt high, 900-watt low, and fan only.

The top has a analog thermostat setting that automatically controls the heat.

The Lasko 754200 is a good low cost unit that would be good in many scenarios.

Video Review


Holmes Portable Desktop Heater

Holmes Portable Desktop Heater with Comfort Control Thermostat and Cool-Touch Housing, HFH111T-NU

This unit from Holmes is a 1500 watt unit with analog controls.

It works much like the Lasko unit above only at a slightly lower cost.

There is two heat setting High and Low, along with a tip over safety shut off.

The thermostat is analog and works well for the price.

If you are on a budget and looking for a good unit then the Holmes Portable unit is worth a look.

Lasko 675919

Lasko 675919 Stanley Pro-Ceramic Utility Heater, 12-Inch

When looking at portable heating units it is hard to miss the many good Lasko units including this ultra portable model.

It has a nice handle to carry it about along with being adjustable to point the heat where needed.

There is a adjustable thermostat to control the 1500 watts the unit can put out.

It also has a more durable build than many other units making it ideal for use in a garage or workshop.

Summary
There are many good portable space heaters that have a built-in thermostat.

Units come in all shapes and sizes. The above units are simply ones we have used that worked well, if you have a favorite unit let us know in the comment below.

Be sure to take some safety precautions with and heater. While most modern heaters are built well with many safety features it is never a good idea to leave one unintended.

Also be sure how your electrical works and how many devices are on a circuit. Most breakers handle between 3-5 outlets and possible a light. Most homes are wired to use a 15 amp max on any breaker circuit and will throw the breaker if it is overloaded.

Since most all electric heater can go-up to 1500 watts any other electrical devices can push the breaker to its tipping point.

Even though it is rare to have problems, simply be sure to be safe with any heater no matter what safety features it may have.