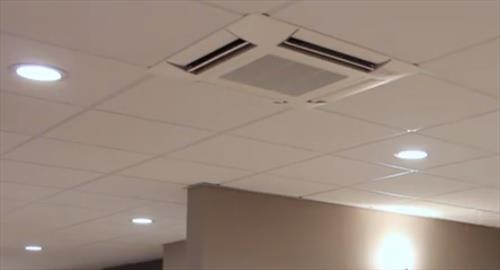 Mini split units come in three main types of packages, including wall mounted, floor mounted, and cassette style units.
Wall units are the most commonly used type of indoor condenser for mini split installations, but ceiling cassette units are also available and work just as well.
A ceiling cassette has the advantage of looking better and being up out of the way.
The main disadvantage of a cassette mini split package is they usually cost more compared to other units.
What is a Mini Split Cassette Unit?
A mini split cassette is an indoor condenser that mounts on the ceiling instead of a wall.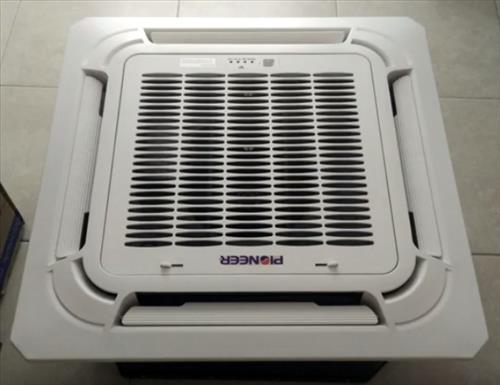 All mini split units need an indoor condenser to cycle refrigerant and blow cold or hot air into a room.
The indoor unit can be mounted on a wall or the ceiling.
Wall units are much more common, but both indoor condenser types work well.
Mini Split Cassette vs. Wall Unit
Pros
Cassette type units are up out of the way with a more traditional look.
Wall units hang on a wall and can be in the way.
Cons
Indoor ceiling cassettes may be harder to install, depending on the building.
Wall units are easier to install and can be mounted in almost any building.
Cassette units usually cost more compared to wall units.
When picking any HVAC equipment, the building the unit will be installed into must be thought out.
Ceiling cassettes need to be thought out more as they require more ceiling space to install.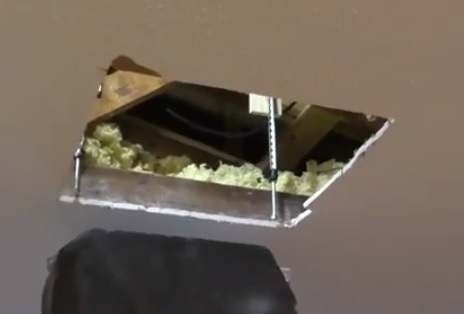 This will not be a problem for a home with a large attic and easy access to run the refrigerant lines.
Wall units are easier since the refrigerant lines run straight out the wall through a 3-inch hole.
For wall units, since the ceiling space does not matter, they can be installed in many scenarios cassettes can not be installed, such as mobile homes or room additions.
Many good mini split ceiling cassette units are available, with some of our favorite picks below.
As always, be sure to read the reviews on Amazon, here, or elsewhere to be sure a unit is a good fit for you.
*This post contains affiliate links.
Our Picks for Best Mini Split With Ceiling Vents Cassette
Pioneer Ceiling Cassette Mini Split Kit

Pioneer has become a very popular brand with the do-it-yourself crowd as they sell mini splits kits homeowners can install themselves.

They have kits for both wall units or ceiling cassettes.

The indoor cassette mounts on the ceiling with the line-set from the outside condenser run to it.

Pioneer units are good for those on a budget looking to do a DIY installation.

Of course, if in doubt, be sure to call a professional.


Cooper and Hunter

Cooper and Hunter units are widely used around the world and are known for their good build and being quiet.

They have a wide range of mini split sizes and configurations to fit any scenario.

Different sized vents can be bought ranging from 9×9 inches to 24×24 inches.

Also, multi-zoned units can be bought which come with more than one indoor ceiling cassette.

For example, a 2-zone unit would come with two indoor cassettes.

Multi-zone units use only a single outdoor condenser but multiple indoor units.

Refrigeration lines and wiring will need to be run from each indoor unit to the outside condenser.

This is a good setup when more than one room needs to be heated or cooled.


Gree Ceiling Cassette Mini Split

Gree units are very similar to Cooper and Hunter and come in a variety of packages and multi-zoned kits.

They are not as DIY friendly and will likely need a knowledgeable homeowner or HVAC company to do an install.

For example, the mini split unit and ceiling cassette can be bought, but the copper line-set that carries refrigerant will need to be bought separately.

While it is not a problem to buy the line-set separately, a dedicated DIY kit would be better for anyone installing a unit themselves


Daikin

Available Here on eBay
Daikin mini split units are well built and known to last a long time.

While they mainly sell wall units, a ceiling cassette can also be installed.

They have DIY wall kits, but the installation for a cassette kit will need to be bought separately.

Daikin is a very good brand that builds many good mini split units.
Summary
Installing a mini split is a good option for heating and cooling whether a cassette or wall unit is installed.
Cassettes look better and are barely noticeable, while wall units could be considered big and ugly.
Keep in mind that installing a cassette may not be possible depending on how the home is built.
Homes with a big attic will likely have no problems. An addition with no attic access may not have space to install a cassette.
Multiple indoor ceiling cassettes can also be used if a multi-zone unit is bought.
Have you installed a mini split unit with ceiling cassettes? Let us know your thoughts below.