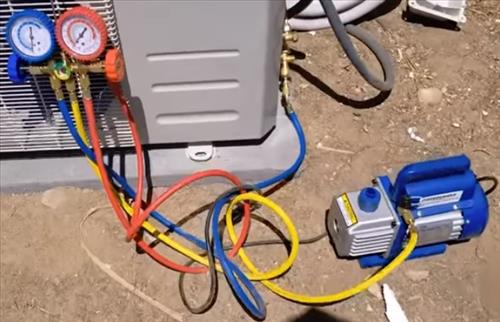 Anyone looking to do a DIY mini split install will need a few basic HVAC tools to get the job done.
Basic tools include HVAC gauges, vacuum pump, along with a hose adapter and a few other optional tools.
If you already have some tools read here for a list of tools needed to install a mini split.
The kits below are for those who have no HVAC tools to start with.
Be sure to read the reviews on Amazon, forums, or elsewhere to be sure a kit is a good fit for you.
*This post contains affiliate links.
Our Picks for Best Mini Split Tool Kit 2019
XtremepowerUS 71098

XtremepowerUS Premium 4CFM Air Vacuum Pump HVAC A/C Refrigeration Kit AC Manifold Gauge Case Set w/Leak Detector and Carrying Tote Bag

XtremepowerUS makes this kit that includes all the basic tools to install a mini split system.

It even includes a refrigerant leak detector which is a nice plus.

There is no torque wrench and only a few adapters to connect the line-set.

Most all mini-split units use a a 5/16″ Female Coupler to 1/4″ Male Flare to connect the manifold gauges to the unit.

Of course, check the mini-split unit to see what size connection it uses.

Here is the Mini Split Adapter Coupler on Amazon
R410A Adapter | 5/16″ Female Quick Couplers x 1/4″ Male Flare for Outdoor Units Mini Split & HVAC & Central Air Conditioner System(Pack of 2) (145°)


Kozyvacu KZTA35013 Kit

Kozyvacu AUTO AC Repair Complete Tool Kit with 1-Stage 3.5 CFM Vacuum Pump, Manifold Gauge Set, Hoses and its Acccessories

This kit from Kozyvacu is a low-cost set of basic tools that would be good for a home do-it-yourself job or a part-time HVAC tech.

It includes a vacuum pump and gauges along with many fitting to hook up to a unit.

It does not include a line-set torque wrench which is not mandatory but can be good to have if you are new to installing a mini split.

The bolts on the line-set need to be tight as not to lose a vacuum but not over tight which would strip them.

Most HVAC techs don't use a torque wrench with it being a personal choice depending on your skill.

If you have worked as a mechanic or similar tightening many bolts before you likely won't need a torque wrench.

The Kozyvacu kit is a good low-cost solution to get a job done.


YELLOW JACKET 60991 Kit

YELLOW JACKET 60991 Mini-Split Tool Kit

Yellow Jacket is a well-known HVAC tool manufacturer that makes many good products.

The one downside to Yellow Jacket is the cost. They are tools built for a professional and will last a long time.

Their mini split tool kit includes almost all the basic tools needed when working on a unit, except the vacuum pump.

It includes the gauges, hex keys, flare tool, cutter, and line-set torque wrench.

This is a good kit for a HVAC tech who already has a HVAC vacuum pump.
Summary
If you are doing a mini-split install and have no tools to start with a kit can be a good start.
Keep in mind a cordless drill, hole saw, and wrenches will also be needed.
For a homeowner doing a mini split install to save money a low-cost set of tools will be good enough.
For a professional HVAC tech more expensive brand names will be needed for the tools to last many years.
Have you found and used a good mini-split tool kit? Let us know in the comments below.