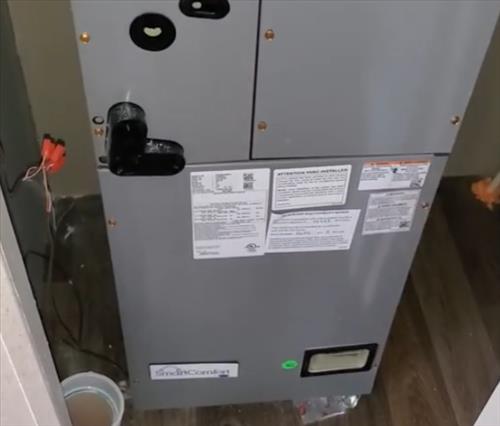 Table of contents
If you are looking for a new mobile home furnace, there are a few things to become familiar with.
Things such as furnace type, sizing, efficiency, and more will need to be known.
There are also alternative ways to heat a mobile home, mainly with heat pumps becoming more popular.
Below is an overview of mobile home furnaces, along with information to help get the best unit to match and fit a mobile home.
Types of Mobile Home Furnaces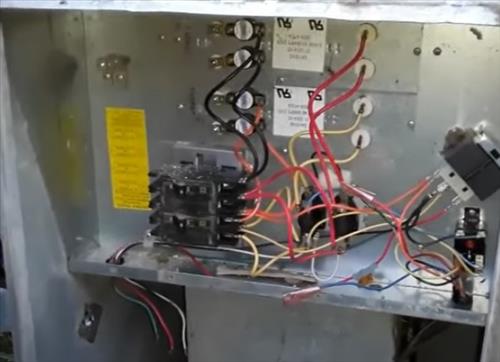 There are three ways to heat a mobile home, including gas, electric, and heat pump.
Gas and electric are the main furnaces types, while a heat pump is an air conditioner that works in reverse to heat a space.
Gas is the most commonly used type of furnace and works very well for heating.
Electric is become more common and also works very well for heating.
While a heat pump is not a furnace, they are becoming very popular as a heating source since they are very efficient and also cool in the summer.
Standard Furnace vs. Mobile Home Furnace
Mobile home furnaces are usually designed with a sealed combustion system, while many standard furnaces have atmospheric combustion.
Sealed combustion draws air from the outside to burn, while atmospheric combustion draws air from inside the home.
Sealed combustion furnaces are much safer and often more efficient.
Mobile home furnaces will also often be smaller compared to standard units since the designers are trying to save on space.
When buying a furnace for a mobile home, be sure it is rated and listed to be installed in a mobile home.
Components of a Mobile Home Furnace and Air Conditioning
Most mobile home furnace air handlers commonly work with a split system air conditioner that will cool when it gets hot.
The split systems are air conditioners only (not heat pumps) and will have three main components, including the outside condenser, line set, and indoor coil.
The outside condenser sits outdoors and has a large fan that blows air hot air from the unit.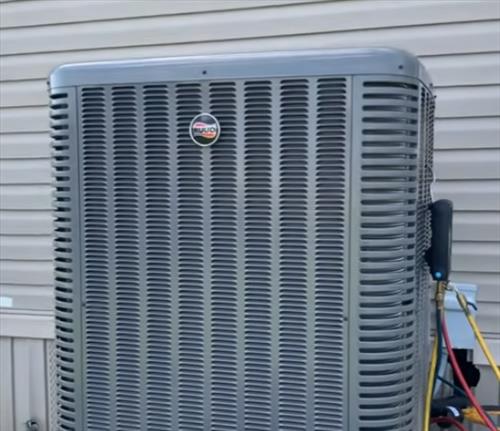 The line set is what carries refrigerant between the indoor and outside unit transferring heat.
The indoor coil, often called an A-coil, usually sits in the bottom of the furnace and, along with the furnace blower motor, blows cold air into the mobile home ducts.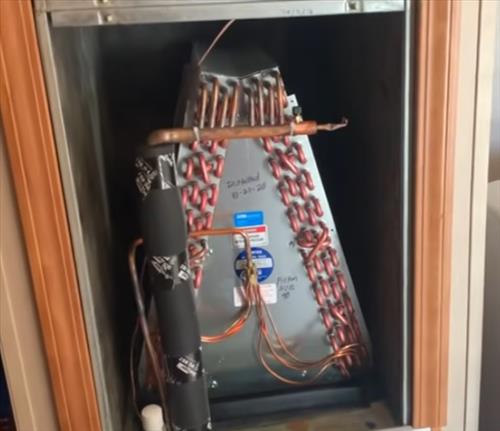 While not necessary for heating, fitting in an A-coil into the furnace and running the line set to the outside condenser is usually a part of an installation.
80% vs. 90% Furnaces
When shopping for a furnace, numbers such as 80% or 90% will be seen.
These numbers indicate how efficient the unit is, with a higher number better.
For example, an 80% furnace has a loss of 20% of heat energy.
A 90% furnace has a loss of 10% of heat energy.
This will have a direct impact on the cost of running the unit. A 90% furnace costs less to run with a lower energy bill compared to an 80% furnace.
The downside is a 90% furnace will cost more to buy since they are better designed.
Sizing a Mobile Home Furnace Climates Ton vs. BTUs
When sizing a new furnace, usually the old units size is used as a reference and matched to the replacement.
If the old unit is under or overheated the home, the size of the new unit can be sized higher or lower to adjust the output.
The official way to size a furnace is to look at which zone the home is located in and match it to the BTUs needed.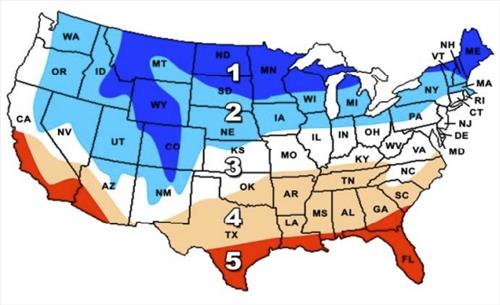 For example, if you live in zone 3 of the map above and have an 1100-square-foot home, a 40,000 BTU unit would be needed. (Sizing Chart is Below.)
BTUs are used to size a unit by matching it to the square feet of the space that needs heating or cooling.
Units can also be sized by the ton, with 12000 BTUs equal to a 1-ton unit.
12000 BTUs or 1-ton unit is rated to heat a space of 450 to 550 Sq Ft.
To size, a furnace, first calculate the square footage of the space and then match it to a furnace sizing chart.
Also, take into account if a unit is 80% or 90% percent furnace.
A 90% percent furnace is 10% more efficient compared to an 80% percent furnace.
Sizing Chart for Mobile Home Furnace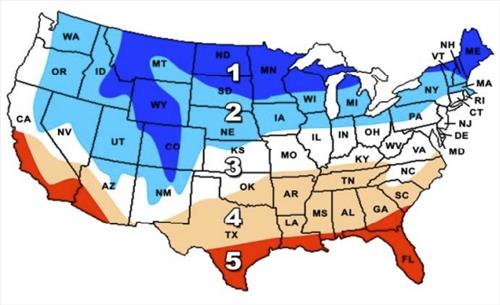 | Region 1 | Region 2 | Region 3 | Region 4 | Region 5 | Furnace Size |
| --- | --- | --- | --- | --- | --- |
| 624-780 Sq Ft. | 675-840 Sq Ft. | 750-940 Sq Ft. | 915-1140 Sq Ft. | 1025-1280 Sq Ft. | 40,000 BTU |
| 780-1170 Sq Ft. | 840-1260 Sq Ft. | 940-1410 Sq Ft. | 1140-1710 Sq Ft. | 1280-1925 Sq Ft. | 60,000 BTU |
| 1170-1560 Sq Ft. | 1260-1680 Sq Ft. | 1410-1880 Sq Ft. | 1710-2280 Sq Ft. | 1925-2550 Sq Ft. | 80,000 BTU |
| 1560-1950 Sq Ft. | 1680-2100 Sq Ft. | 1880-2350 Sq Ft. | 2280-2850 Sq Ft. | 2550-3200 Sq Ft. | 100,000 BTU |
| 1950-2340 Sq Ft. | 2100-2525 Sq Ft. | 2350-2825 Sq Ft. | 2850-3425 Sq Ft. | 3200-3850 Sq Ft. | 120,000 BTU |
If you need to know, "How many BTUs and what size furnace do I need for a mobile home?"
Match the zone you live in from the map and match it to the square feet of the mobile in the sizing chart.
Updraft vs. Down Draft Furnace
An updraft is a furnace in which the air flows upward.
Downdraft is when the air in the furnace flows downward.
Also called Up-flow and Down-flow, it is important to get the air direction correct, so the air flows out the vents.
If the vents are on the floor, the furnace is usually downdraft; if the vents are on the roof, the furnace is usually updraft but be sure to verify it.
Most mobile homes have the vents in the floor are downdraft units but always check to be sure.
Mobile Home Furnace Prices
Mobile home furnace prices can vary and usually cost roughly $1000 to $3000.
The heating capacity, efficiency, and type will all factor into the cost.
The only way to know the exact cost is to get quotes from an HVAC company or shop around for your furnace type and size.
How Much Will it Cost to Install a Mobile Home Furnace?
The cost of a furnace installation in a new home can vary widely between $3,200–$7,000.
The average labor cost is between $150–$500 per hour, with the cost of the unit needing to be added on.
Every installation will be different, and the only way to know for sure what it will cost is to call around and get quotes.
Unknown costs can also add to the total. For example, if a new gas line is needed, it may cost an extra $250–$800.
Mobile Home Furnace Replacement and Installation
Installing a new furnace depends on the type of furnace being installed, such as gas or electric.
Gas furnaces will need the gas line examined for any corrosion and replaced if necessary.
Most often, a replacement is attached to the old line.
An electric unit will need power at the location, which is usually 230 volts AC.
Each unit will also need to be fitted into place, which is done by getting a new unit with the same dimensions as the old unit.
A new furnace can be fitted in with metal work and HVAC tape, but it is much easier if it matches the old unit.
Heat Pump vs. Furnace in a Mobile Home
Heat pumps are a very good alternative to furnaces and can both heat and cool.
Mini-split heat pumps have become very popular and are commonly installed in mobile homes.
The only downside to a heat pump is in very cold climates; they can struggle to heat when the temperature drops too low.
Each heat pump has a rated low temperature they can work to until they freeze up and stop working.
Most newer heat pumps can operate down to 10-20 degrees (some lower) Fahrenheit before the stop heating, but be sure to check the unit's documentation.
For this reason, they are widely used in climates such as the American southwest and similar.
In a very cold climate, a furnace would be a better option since they work no matter how cold the temperature gets.
Summary
Buying a new furnace for a mobile home is a straightforward task that starts with knowing what type of furnace you have.
Getting the right replacement usually means matching it to the old unit as close as possible, so less retrofitting needs to be done.
If the unit is gas, the gas line should be examined for any leaks and corrosion and replaced if necessary.
Many homeowners are also switching to heat pumps since they also cool in the summer, but they do not heat well in very cold climates.
Do you have any questions about buying a new furnace? Let us know in the comments below.