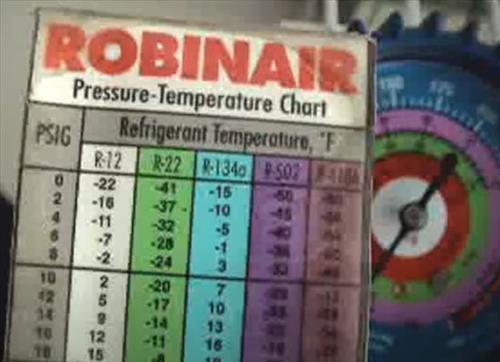 An HVAC unit needs the correct pressures to operate and heat or cool a space.
If the refrigerant is too low or high, the unit will not operate correctly and cause problems such as freezing up or other issues.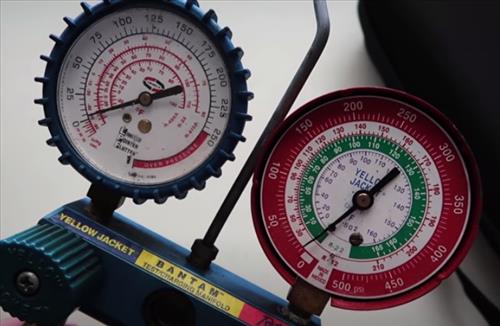 Since pressure changes as the temperature changes, a pressure temperature chart is used as a reference to get the right range needed.
A pressure temperature chart also helps with the different refrigerants used since they can have different pressure ranges.
Reading and using an HVAC pressure chart is not difficult and easy enough to use once understood.
What is a Pressure Temperature Chart?
A pressure temperature chart gives the correct range of pressure that a refrigerant operates, with the current outside temperature.
A pressure temperature chart shows the boiling point of a refrigerant at a specific pressure.
The outside temperature will be needed (using a thermometer) along with HVAC gauges to read a systems pressure, and refrigerant type.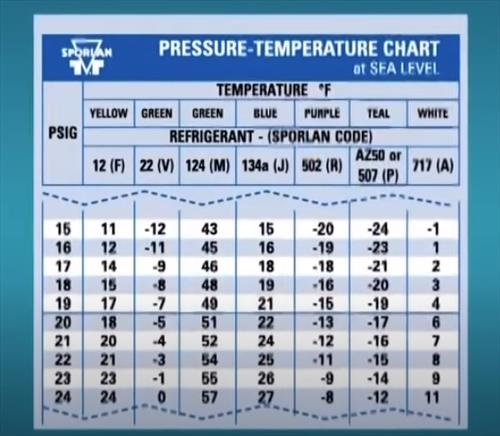 Once the refrigerant type and outside temperature are known, the chart will show the pressure the system should be at.
Items Needed to Read a Pressure Temperature Chart
Temperature Pressure Chart
Thermometer to Measure Outside Temperature
HVAC Gauges to Check a Systems Pressure
Example HVAC Temperature Pressure Chart on Amazon
PT Chart R22/R-410A Laminated Pocket Aid Pressure/Temperature 34-3400-02
How To Read an HVAC Temperature Pressure Chart
Check the refrigerant type on the unit label.

Hook HVAC gauges to the units high and low refrigerant lines that can read the refrigerant type.

The blue gauge goes to the low-pressure side (Big line) and the red to the high-pressure side (Small line).
Be sure the HVAC system is running.
Check the air temperature at the unit with a thermometer.
Look up the correct pressure range on the temperature pressure chart.

Check the HVAC gauges, and the system should be operating in the correct range.
Summary
Using an HVAC temperature chart may seem difficult but is easy enough once basic concepts are understood.
HVAC systems heat and cool with pressures that change with the temperature.
Pressures and the temperature are constantly changing, with a chart able to give the correct range for a refrigerant type.
Knowing if the values are correct or wrong is often necessary to see if a system is working correctly or has a problem.