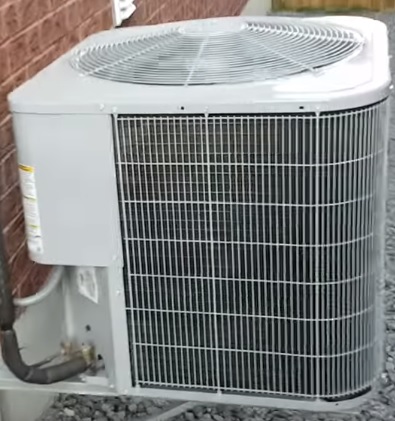 A noisy, loud air conditioner or heat pump unit can be an annoyance, especially when sleeping or watching TV.
HVAC calls for a noisy outside condenser is a common problem sometimes with complaints from neighbors with a room close to the unit.
Not all heat pumps are made the same when it comes to how much noise they make.
Some are so quiet you don't even know it has turned on, while others can force you to turn the volume up on the TV.
Before racing out to buy a new heat pump, let's look at something's a homeowner can do to quiet down a noisy unit.
Common Noise Sources for a Loud Heat Pump Unit or Air Conditioner
Compressor
Fan Shroud (Cage)
Loose Screws Bolts
Fan Motor or Blades
While many things can make a heat pump noisy, the main culprits are the moving components such as the fan motors, blades, and compressor.
Often screws can vibrate loose, causing a shroud or door to vibrate and rattle around, making noise.
The compressor can also be loud depending on the type with solutions to help quiet it down.
Below are common fixes for these types of problems.
Fixes for a Loud, Noisy Heat Pump or Air Conditioner
Check the Top Fan Shroud (Cage)


The top fan shroud protects the fan blade as it spins and can vibrate a lot if not bolted to the condenser correctly.

Sometimes screws can vibrate loose, or they can be out of alignment.

Examine your unit to see if the noise from the shroud usually has a vibration rattling noise.

If this is the source of noise, pressing on the edges of the shroud will cause it to stop vibrating.

Often, a screw has come loose or simply needs the screws tightened.

Compressor Sound Blanket Wrap


A compressor is what moves refrigerant through a unit and transfers hot and cold in or out.

Often they can become loud either because they were manufactured that way or are old and starting to show wear.

Compressor Sound Blanket Wraps can be used to muffle out a noisy compressor and work very well.

A compressor sound wrap blanket is made of noise reduction material that simply wraps around a compressor.


Sound wraps are simple enough to install with minimal skills and can even be bought on Amazon.

Example Compressor Sound Wrap Blanket on Amazon
Brinmar SBUHD Universal-Fit Air Conditioner Compressor Sound Blanket Wrap (0421A)
Manufacturers don't usually install a noise suppressant blanket around a compressor, but some do, so be sure to check.

Installation is not hard but does require unscrewing and removing the top or side panel of a heat pump unit, which may not be for everyone.

Someone can always be hired if needed. If you do install one yourself, be sure the power is off to the units before removing the top or side panel.


Vibration Isolation Dampener Mounts


Some compressors vibrate badly, which makes them very noisy as they vibrate about.

One way to fix this problem is with Vibration Isolation Dampener Mounts, a cheap and easy solution.


Most compressors have 3-4 main bolts that hold them in place. Vibration dampener mounts replace the old bolts with a layer of hard rubber that absorbs the shock created when the compressor vibrates.

Examples Vibration Isolation Dampener Mounts On Amazon
JW Winco 451.1-25-25-5/16-55 Series GN 451.1 Rubber Cylindrical Vibration Isolation Mount with 2 Threaded Studs, Inch Size, 1″ Diameter, 1″ Height, 5/16-18 Thread
They do require removing the old mount bolts and replacing them with the new ones.


Condensing Fan and Blower Motor


A condensing fan and blower motors work in combination to blow air away from a unit and blow air into a home.

The condensing fan motor is the motor that sits outside and turns a large fan. This is the most common of the two to go bad in a heat pump unit.

Often they are simply worn with age and time to replace. Other times the fan can be damaged, causing it to wobble wrong.

Check for any debris that the fan may be hitting when it spins and that it is aligned properly. If the holding screws become loose, a fan motor can touch metal and make a racket.

Changing out a condensing fan motor is more complicated than the other options but can be done by someone with basic electrical skills.

For a complete guide on replacing a condensing fan motor click here.
Summary
The above are the most common reasons an HVAC heat pump is noisy.
Examining the unit will usually point to what the problem part is.
Also, be sure to check all the side panels as one may have come loose and be banging about.
Compressor sound wrap blankets are a common fix when a customer complains about a loud unit.
They are easy enough to install for a handy type of person.
Of course, call a professional if in doubt.
All HVAC systems have high voltage, so be sure to call a tech if needed.
Have you had issues with a loud or noisy HVAC heat pump air conditioning unit? Let us know your thoughts below.