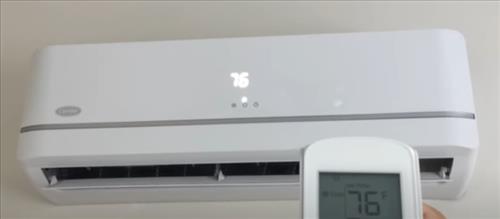 If you have an error code on a Carrier mini split, the problem can be found by using a code chart.
Carrier units will usually display the error code on the unit but can also use LED flashes to point to a problem.
Below are the error codes for a Carrier mini split and their meanings.
Note: It is always good to get the manual for your specific Carrier model as there may be differences in some cases.
Carrier Mini Split Error Codes List
08: Defrost Mode 1
0A: Defrost Mode 2
EO: Indoor unit EEPROM parameter error.
E1: Communication between indoor and outdoor units.
E2: Indoor outdoor units communication error.
E3: Indoor fan speed malfunction.
E4: Indoor room temperature sensor (T1) malfunction.
E5: Evaporator coil temperature sensor (T2) malfunction.
E6: Indoor Unit EEPROM Parameter Error.
EE: Water level alarm malfunction (Only for cassette and duct types).
F0: Low charge or refrigerant system blockage.
FO: Outdoor AC Current protection.
EC: Refrigerant leak detection.
F1: Outdoor ambient temperature sensor (T4) malfunction.
F2: Condenser coil temperature sensor (T3) malfunction.
F3: Compressor discharge temperature sensor (T5) malfunction.
F4: Outdoor unit EEPROM parameter.
F5: Outdoor fan speed malfunction.
F6: Indoor coil outlet sensor malfunction (located on outdoor unit low).
P0: Inverter module (IPM) malfunction.
P1: Over voltage or under voltage protection.
P2: High temperature protection of compressor
P4: Compressor five malfunction.
P5: Indoor unit mode conflict.
P6: Low pressure protection.
P4: Inverter compressor drive error.
F8: Compressor Suction Temperature sensor defective.
L3: Drive Phase current overload defective.
L4: Phase Current Sampling defective.
L1: Drive bus voltage overload protection.
L2: Drive bus voltage overflow protection.
P5: Compressor phase current protection.
P6: Outdoor over high/over-low DC voltage protection.
P7: IPM Temperature over heat protection.
P8: Compressor discharge Temperature overheat protection.
P9: Cooling indoor Unit anti-freezing protection.
PU: Cooling Outdoor Coil over heat protection.
PE: Heating indoor coil over heat protection.
PC: Cooling outdoor ambient Temperature over-low protection.
PH: Heating outdoor ambient Temperature over-high protection.
E2: Zero crossing signal detection error.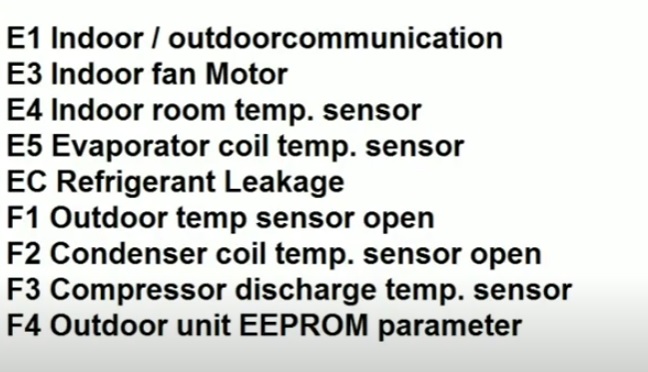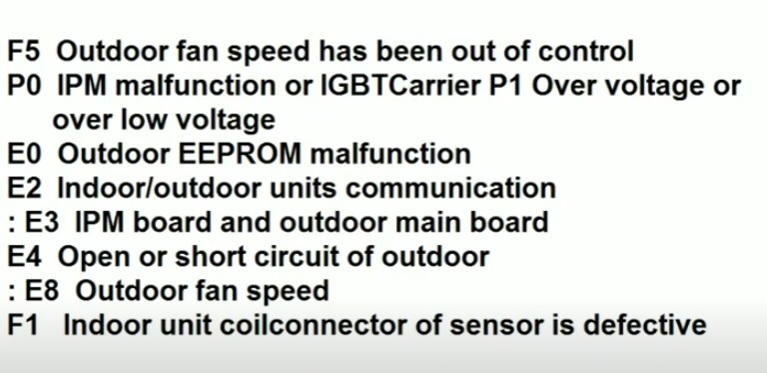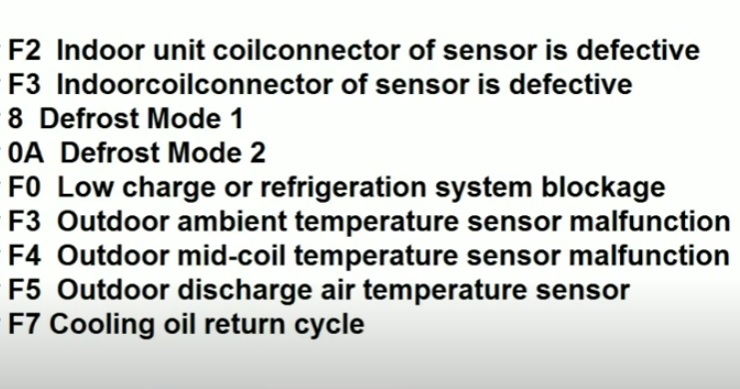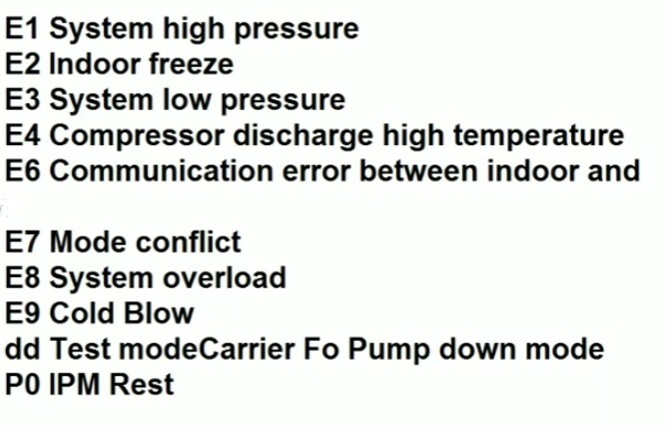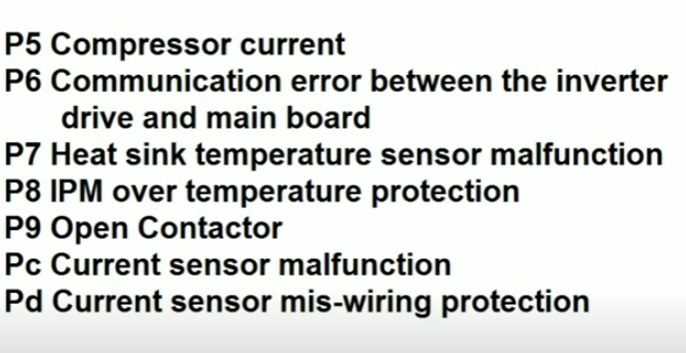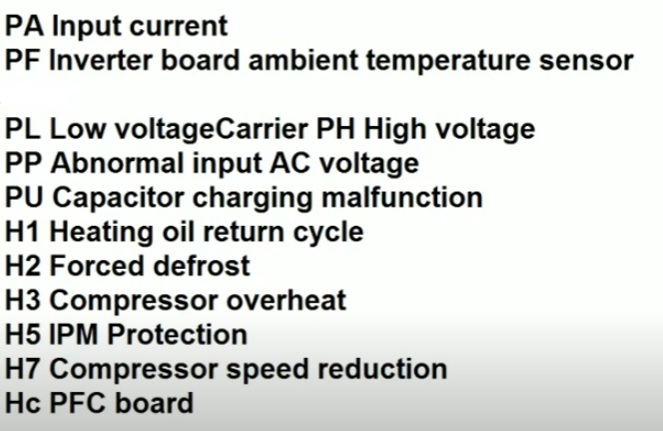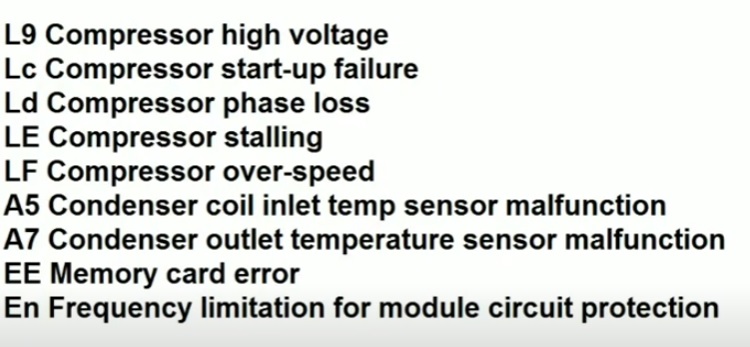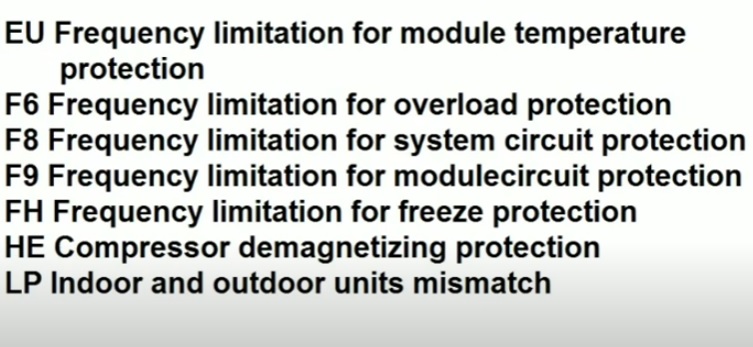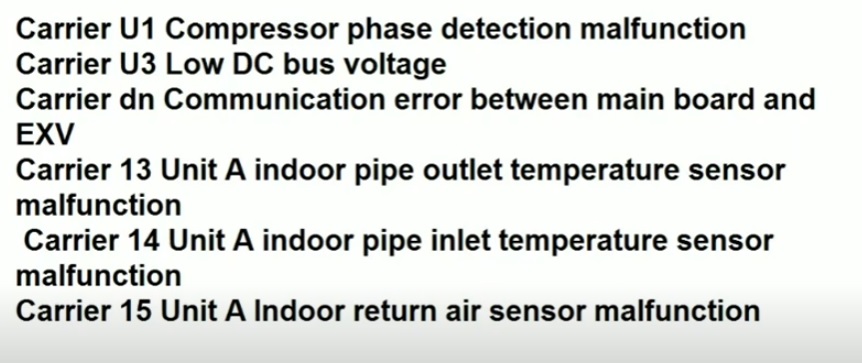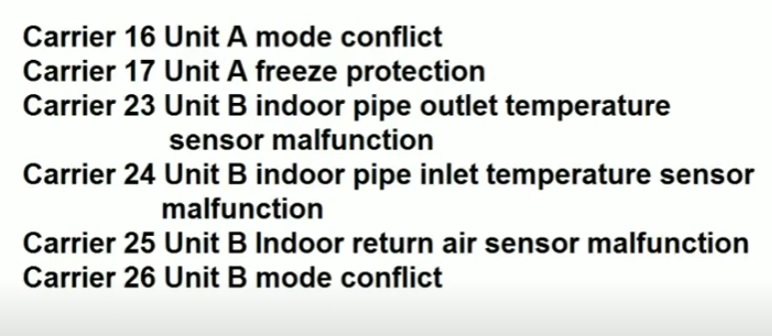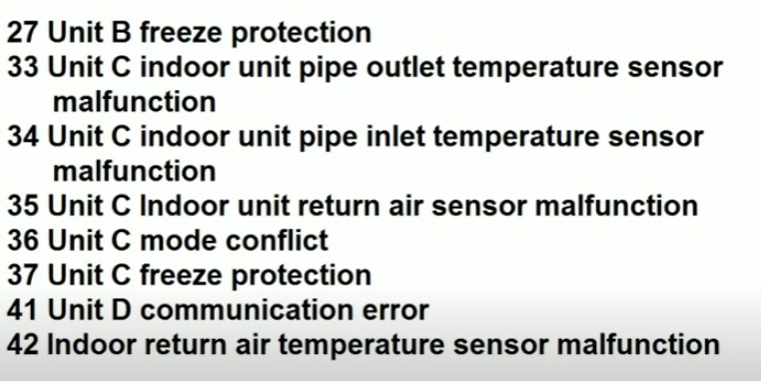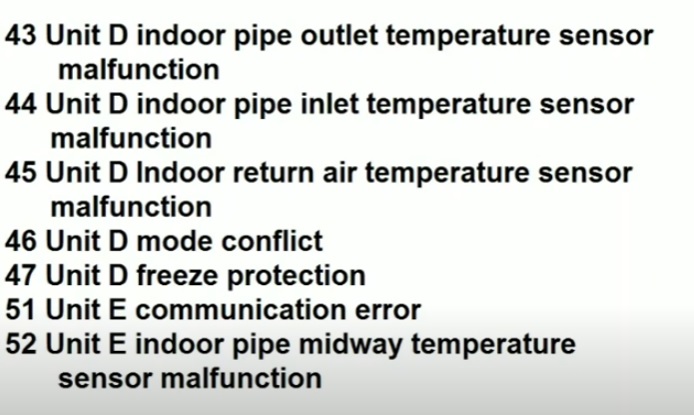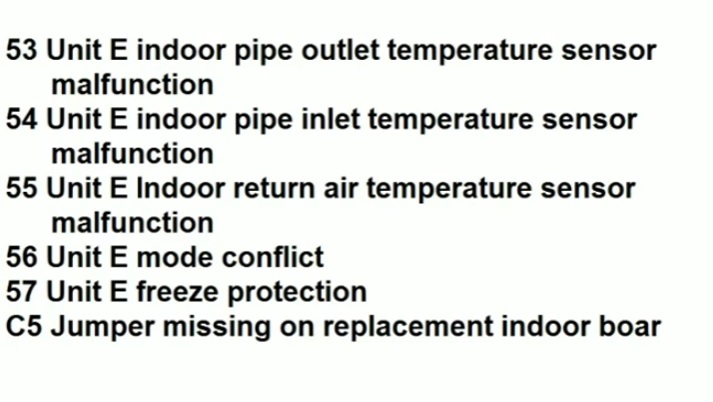 Summary
Troubleshooting a Carrier mini split begins by looking up the error code on a chart list which will list the cause.
Once the code is matched, the error will point to the unit's problem.
For example, an E1 error code is a communication problem between indoor and outdoor units.
This is usually in the communication line that goes between the two units.
Checking all the connections and using multi-meter to check for any shorts or open usually would solve the issue.
This is only one example with other error codes being used the same way.
Have you had an error code on a Carrier mini split? Let us know your thoughts below.