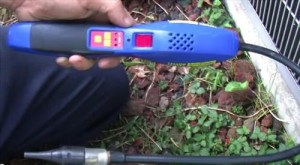 Finding a refrigerant leak on a HVAC system can be easy at times and other times almost impossible.

One method is to use a bubbly liquid sprayed around were a possible leak is to visibly be able to see the leaks location. Using this method does work but often requires lots of time, especially for small difficult to find leaks.

Also If a system has a very low charge the unit will need charged with Nitrogen to raise the pressure.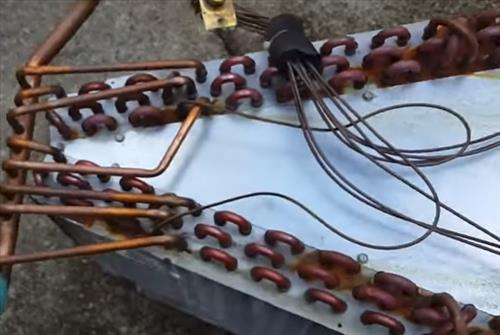 Another method to find hard to spot leaks is to use a leak detector that will detect refrigerant and notify the user.

Every HVAC tech will have their own favorite method of finding a leak. In my experience using both the soap method, florescent dyes, and leak detector method have their advantages.

In the past leak detectors were notoriously bad at finding a refrigerant leak but technology today has changed with many good ones available.

Refrigerant leak detectors vary in build and cost. What fits one technician often doesn't fit another.

The best method to find the right leak detector that fits you is to read the reviews on forums, Amazon, or other sources from real techs in the field already using it.

Below is our picks for best HVAC Leak detectors with links to Amazon.
As always be sure to read the reviews on Amazon, forums, or elsewhere to be sure a unit is a good fit for you.
Our Picks for the Best HVAC Refrigerant Leak Detectors 2019
Fieldpiece SRL8

Fieldpiece Heated Diode Refrigerant Leak Detector – SRL8

Fieldpiece is a well known HVAC tool manufacture and builds the SRL8 refrigerant leak detector.

It is good unit that is used by many professional HVAC technicians.

It can sniff out most any refrigerant including CFCs, HFCs, HCFCs and other blends.

The unit works very well with HFC refrigerants such as R134a and R404a.

It is less sensitive to CFC refrigerants such as R-410A or R-22.

The Fieldpiece SRL8 is a great unit that is a good fit in any HVAC tool kit able to quickly find a leak on many systems.


Yellow Jacket 69336 AccuProbe

Yellow Jacket 69336 AccuProbe UV Leak Detect

Yellow Jacket which is another well known HVAC equipment manufacture that makes many good tools.

The Yellow Jacket AccuProbe is also built for professionals to find refrigerant leaks on an HVAC system.

The unit has a lot of features, uses 4 AAA batteries and has a UV light at the tip.

The display will show a number 1-9 to indicate how big a leak is found.

The unit works by detecting changes in refrigerant. This mean that when using it move the unit away from the possible leak for a moment and back again.

Moving the unit around gives the best results when trying to find a leak.

The Accuprobe also features a three led UV light system.

It works with 395-415 nano-meter wavelength leak tracing dyes for use on systems that were either installed with or have had dye injected in past service calls.

The AccuProbe is a good unit that has helped many techs find and repair refrigerant leaks.


Elitech ILD-200

Elitech ILD-200 Advanced Refrigerant Leak Detector Halogen Leakage Tester Checker High Sensitivity Portable Case 10 Years' Life 【3 Years Warranty】

The Elitech ILD-200 is built for the professional HVAC tech with a good warranty and made to last many years.

It has visual and audible alarms along with strength level to show were a leak is and when it is close.

The probe is flexible and easy to move about to find even the smallest hard to find leak.

It also has many built-in features such as three sensitivity settings to help narrow in on a hole.

The Elitech ILD-200 is a great unit made for those who plan on working in the HVAC field for many years.


H10 Pro

Mars H10 Pro Refrigerant Leak Detector Made By Bacharach

The H10 Pro is another top-end unit that has helped many HVAC techs find a leak.

The unit comes in a small case with nicely laid out controls and long sniffer.

It makes an audible tick and the tip has a light with both going faster the closer to a leak it is.

The unit is powered by a rechargeable battery or external DC adapter.


Yosoo hld-100+

Yosoo Halogen Gas Freon CFC HFC Refrigerant Leak Detector HVAC R134a R410a R22a

This unit is cheap compared to the other leak detectors. The cost makes me a little wary of how well it would work in the field.

While it cant be compare to the top name-brand units it would be good in some scenarios, just don't expect wonders.


LotFancy

LotFancy Refrigerant Freon Leak Detector for HFC CFC Halogen R134a R410a R22a R600a R290 Air Condition HVAC

LotFancy is a low-cost budget unit that while not as good as other units wold be good in some scenarios.

The tip is flexible to bend and move about to get in close to find small hard to detect leaks.

It has a light and beeps when a leaks is found.

While small and kinda cheap looking it does work. It is not meant as a professional tool but works well enough for those looking for a budget unit.
Best HVAC Refrigerant Leak Detectors Comparison Chart

| Name | Build | CFC / HFC | Type |
| --- | --- | --- | --- |
| Fieldpiece SRL8 | Professional | Yes | Handheld |
| Yellow Jacket AccuProbe | Professional | Yes | Handheld |
| Elitech ILD-200 | Professional | Yes | Portable case |
| H10 Pro | Professional | Yes | Handheld |
| Yosoo hld-100+ | Budget | Yes | Handheld |
| LotFancy | Budget | Yes | Handheld |