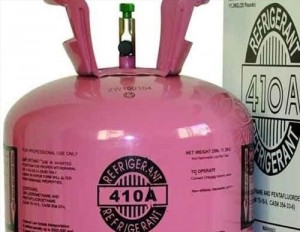 R410a refrigerant can be bought at HVAC supply houses, HVAC repair companies, and online on sites such as eBay.
Can an Individual Buy R410A Refrigerant?
Yes, an individual can buy R-410A refrigerant, but there are some limitations.
By law, only those who have taken and passed the EPA 608 exam can buy any refrigerant, but there are many sellers on eBay who seem to have a workaround.
Many listings on eBay will send R410A refrigerant as long as a message is signed saying that the refrigerant is meant for resale to a certificated individual.
It is quick and easy to sign, and they will mail the refrigerant.
I am unsure about the legalities of this, but there are many sellers on eBay that are selling this way.
Check Here on eBay for R410a Listings.
R410a Refrigerant on eBay
How Much Does R410a Cost?
This can vary depending on location and where it is bought.
For example, if you live nearby an HVAC supply house and deal with them daily, the cost will likely be minimal per pound.
If you live far from a supply house and need it delivered, the cost will go up depending on the distance traveled.
Some supply stores can be more reputable than others. Sometimes employees charge more to a customer they know they won't see again. Not all are like this, but it is something to keep in mind.
R410a can also be bought from an HVAC service company, with this option likely being the most expensive.
Service companies will mark up their cost since they are not a supply store and have added costs.
A service company will have vehicle operating costs, and while many will sell R410a, they are in the business of making money and getting it from the same locations as anyone else.
Buying R410a online is a good option if you live far from a supply store or simply want the best price without dealing with a third party.
Summary
Buying R410a like anything else will depend on your location and the availability of supply houses in your area.
If you live in a large town, you will likely have many more options than someone in a small town.
Someone who lives in the country will have almost no options without driving some distance.
Wherever you buy R410a, be sure to check the current prices online to know what the going rate is.
Knowing the current, up-to-date price will ensure you don't get overcharged.