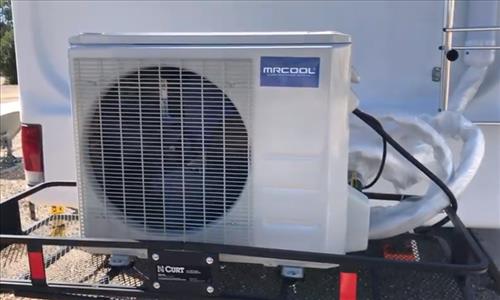 While mini split units have been primarily used in homes their high efficiency makes them ideal when installed on an RV, trailer or camper.
They have become very popular with RV and trailer owners since they are much more efficient, and work much better compared to rooftop units that come installed.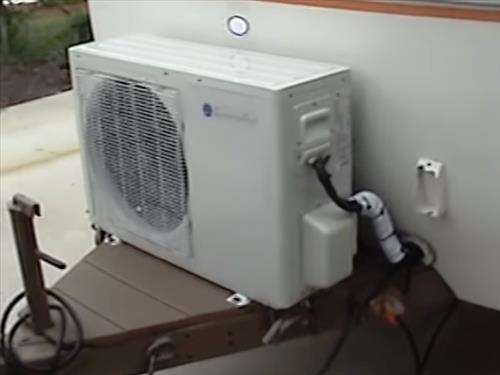 Mini split units are well known as being highly efficient with very good SEER ratings.
Since they have such high SEER rating they have a very low amp draw.
Many homeowners use this high efficiency to drastically reduce heating and cooling cost.
While most mini split units are not specifically designed for a motor home or RV many people have installed and retrofit them into place.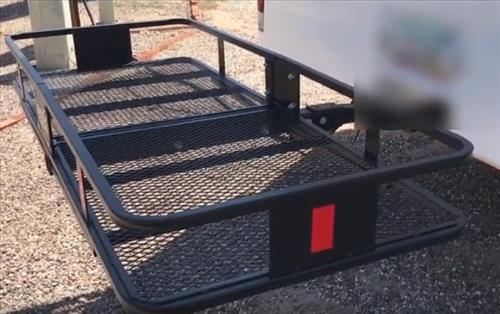 Most often the outside condenser is set on the tongue of a trailer of a hauling hitch for an RV.
The copper line-set that goes between the two units is usually fed underneath along the frame and up through the floor to the inside unit.
There is no set way when retrofitting in a mini split with no-doubt many creative ways to fit a unit into place.
With that in mind below are some units and methods others have done to retrofit in a mini split to their RV or trailer.
Be sure to read the reviews on Amazon, forums, or elsewhere to be sure a unit is a good fit for you.
*This post contains affiliate links which at no cost to you allows us to earn a commission on product purchases.
Our Picks for Best Mini Split AC Heat Pump for an RV or Trailer
PIONEER

PIONEER Air Conditioner Pioneer Mini Split Heat Pump Minisplit Heatpump 12000 BTU-208/230 V

Pioneer is a well known mini split manufacture with many sizes available along with 110 volt and 220 volt units.

They have become very popular with many home DIY type people since they are low-cost and come in a kit for an install.

Some tools will be needed for an install such as a vacuum pump and HVAC gauges but low-cost budget tools can be used.

How the outside unit is mounted will need to be thought out with RV units usually using a hitch.

If you are planning on doing an install yourself Pioneer mini split kits units are worth a look.


MRCOOL DIY Series

MRCOOL Comfort Made Simple DIY 12,000 BTU Ductless Mini Split Air Conditioner and Heat Pump System with Wireless-Enabled Smart Controller; Works with Alexa, Google or App; 115V AC

MRCOOL mini split kits are also good units set up for the DIY type person.

They have the added feature of having the line–set already set in a vacuum and pre-sealed.

This means there is no need for a vacuum pump or HVAC gauges to set the unit in a vacuum before releasing the refrigerant.

Keep in mind pumping a unit into a vacuum is not difficult but a Mr Cool unit would be good for someone very new to mini split installs.

They do cost more compared to budget units but work very well and are the easiest units to install.


Senville

Senville 9000 BTU SENA-09HF/Z Energy Star Mini Split Air Conditioner Heat Pump, White

Senville is very similar to Pioneer units and comes with different BTU sizes and voltages.

They are also low-cost budget units that come with a full kit for an install, except AC electrical wiring.

Most all kits do not include the electrical AC wiring which will need to be bought separately.

Budget units are great for RV and trailer installs and when done right last many years heating and cooling a space.
Summary
Mini Split units are widely used in home additions, garages, or any space that needs to be cooled and heated at a low-cost.
When thought out they can also make for an ideal RV or trailer setup.
They have a low amp power draw with many units able to be run over a standard extension cord, of course check the amps first.
For example, a 115 volt 9,000 BTU unit I installed pulls roughly 8-9 amps.
A 220 volt unit pulls even less amps and are even more efficient.
Of course be sure to check the required wiring, amp and voltage any unit uses and follow the guidelines in the manual.
Any install will need to be thought out more compared to any home installation since it will be on a moving vehicle.
There is many creative solutions to installing a mini split on a motor home.
The installation will need the outside condensing unit set up to blow away heat or cold while the inside unit will need to be mounted with a bracket on a wall.
Two small copper lines called a line-set will need to be run between the two units along with control wires.
Have you installed a mini split on a RV, trailer, or camper? Let us know below in the comments on how the install went for you.