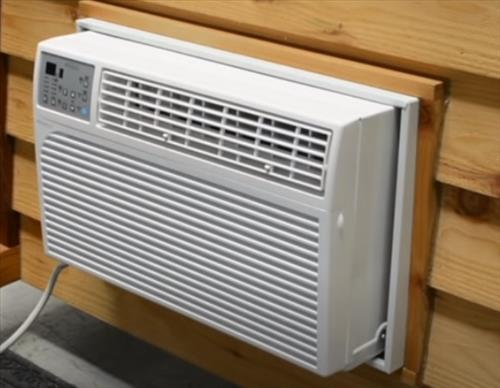 Not all air conditioners are the same when it comes to the noise they make.
Some are barely noticeable while others can create a racket that can become annoying, to say the least.
Through-the-wall air conditioning units are no exception and along with window mounted A/C units are the loudest.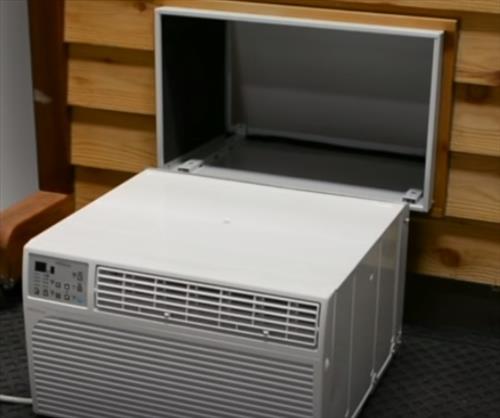 The reason they are the loudest is the main noisy part is the compressor which is located inside the packaged unit.
Unlike a traditional A/C unit that has the compressor located outside.
With that said some through the wall A/C units that are quieter than others.
Keep in mind there are also other options to get a quiet air conditioning unit such as mini-split unit which locates the compressor outside and are very quiet.
Mini-split units require more work to install and setup than a through-the-wall unit but is a good option for a knowledgeable do-it-yourself type of person.

What are the Quietest Through the Wall Air Conditioners?
With the many units available there is no-doubt many good options.
One of the best ways to find the quietest A/C unit is to read reviews online such as Amazon and forums.
Below are the best picks we have found for through-the-wall A/C unit options.
As always be sure to read the reviews on Amazon, forums, or elsewhere to be sure a unit is a good fit for you.
*This post contains affiliate links.
Our Picks For the Quietest Through the Wall Air Conditioners 2020
Emerson Quiet Kool

Emerson Quiet Kool 230V 12,000 Wall Air Conditioner with 10,600 BTU Supplemental Heating, EATE12RD2T, 12000 Standard, White

Available Here on Amazon

The Emerson Quiet Kool through the wall air conditioner is a new unit for 2020 with a lot of nice features.

It cools in the summer but also has supplemental heating for the winter along with built-in WiFi.

Dedicated sleeves can be bought for the unit to slide into making an installation easier compared to many other units.

The Emerson Quiet Kool is a dedicated solution for through the wall A/C units that comes in three different sizes including 10,000, 12,000, and 14,000 BTU's.

Koldfront Wall sleeve on Amazon
Koldfront WTCSLV Through the Wall Air Conditioner Sleeve – White


LG Dual Inverter Smart Window Air Conditioner

The LG Dual Inverter inverter units are very nice efficient units that have a low energy usage.

They come in different sized packages from 14,000 BTU to 22,000 BTU.

They also come with different voltages with 110-Volt and 220-Volt units.

LG Dual Inverter units are set up to operate very quietly at 44 decibels.

The one downside is it is not a dedicated Through-the-Wall unit but with some modification like any window unit it can work.

Of course, be sure to check the measurements of your walls and the size of any unit bought.


Keystone KSTAT Units

Keystone has been around for many years and builds the KSTAT Units which vary in size form 10,000-12,000 BTU and use 115-Volts.

It is rated to cool a space up-to 450-550 square feet, of course climate and how well insulated a home is should be taken into consideration.

While all packaged A/C units make noise the Keystone KSTAT Units are well built that when installed properly keeps the noise minimal.


LG Standard Through-the-Wall Units

Available Here on Sylvane
LG also builds several dedicated though-the-wall units that work very well.

They have 8,000, 9,800, and 11,800 BTU with the 8,000 BTU unit able to cool a space up-to 330 square feet.

The units have a SEER and ERR rating of 9.8 to 10.7 which is how efficient a unit will operate when running.


Koldfront WTC10002WCO

Koldfront WTC10002WCO115V 10,000 BTU 115V Through The Wall Air Conditioner – Cool Only

This unit from Koldfront is very popular and can cool a space up-to 450 square feet.

It is a 10,000 BTU 115 Volt unit built to slide into a wall.

The dimensions are listed as 14.5 inches High, 24.2 inches Wide and 20.3 inches Deep.

Koldfront also has a 8,000 and 12,000 BTU units if less or more cooling power is needed.


Frigidaire 10,000 BTU

Frigidaire 10,000 BTU 230V Through-the-Wall Air Conditioner with Temperature Sensing Remote Control

Frigidaire is a well known manufacture and makes this 10,000 BTU 230 Volt model.

One of the reasons this unit is quiet is that a compressor can run much more efficiently on 230 volts than 115 volts.

220 volts is not common in most homes and is usually only use for hot water heaters or dryers. While running a 220 volt line is always an option it may not be for everyone.


Friedrich Uni-Fit Series

Friedrich Uni-Fit Series UCT10A30A in Wall Air Conditioner, 9,800 BTU, 230v/208v, Energy Star

The Friedrich Uni-Fit Series has three sizes including 8,000 BTU, 9,800 BTU, and 11,500 BTU.

It is made to be a universal unit to fit into almost any existing wall sleeve.

Of course, be sure to measure a unit to be sure it will fit.

The vents allow for the air to flow six different directions making it easy to get the air were it is needed.


PIONEER

PIONEER Air Conditioner Pioneer Mini Split Heat Pump Minisplit Heatpump 12000 BTU-208/230 V

While packaged units are the easiest to install mini split units are by far the quietest and low cost to operate.

Mini split units can barley be heard and have very high SEER ratings usually 17-23 SEER.

They are more work to install but have several DIY mini splits kits that come with most everything needed.

I have installed many mini split units and always recommend them as they are very quiet and can reduce electrical bills drastically from a packaged unit.

They also heat and cool so can be used during the winter and summer.

Pioneer is one of the more popular options that come in different sizes and voltages.
Quietest Through the Wall Air Conditioners Comparison Chart

| Name | BTU | Voltage | Type |
| --- | --- | --- | --- |
| LG Dual Inverter | 14,000-22,000 | 110/220 volts | Package |
| Keystone KSTAT Units | 10,000-12,000 | 115 Volt | Package |
| LG | 8,000-11,800 | 115 Volt | Package |
| Koldfront | 10,000 | 115 Volt | Package |
| Frigidaire | 10,000 | 230 Volt | Package |
| Friedrich Uni-Fit Series | 8,000 | 115 Volt | Package |
| Pioneer | 12,000 | 110/220 volts | Mini Split |
Summary
Installing a through-the-wall-air conditioner can be more of a challenge compared to a standard window unit.
While more harder to install they can be necessary when here is no window to place a standard unit into.
The noise level can vary and the installation can often make a big impact how loud a unit is.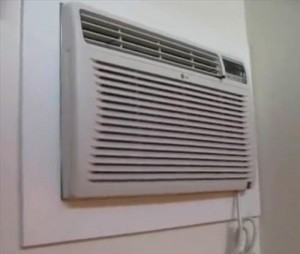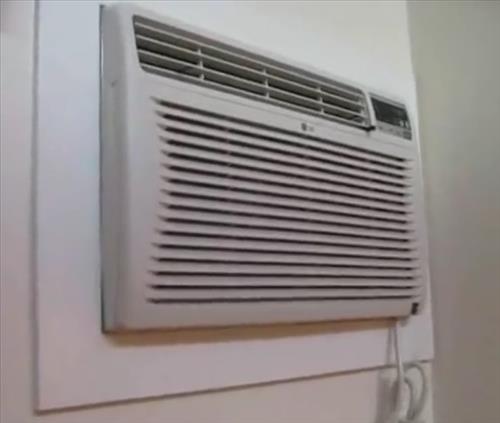 A badly installed package can vibrate which can lead to higher noise levels.
Be sure to install a unit level and follow the instructions that come with the package.
All package type units will always make some noise with a mini-split the best long term quiet option.
They also dont require huge hole to be cut out with usually a 3-inch hole through the wall for the line-set.
Of course, they do require more skill to install but there are many DIY kits along with YouTube video showing the steps.