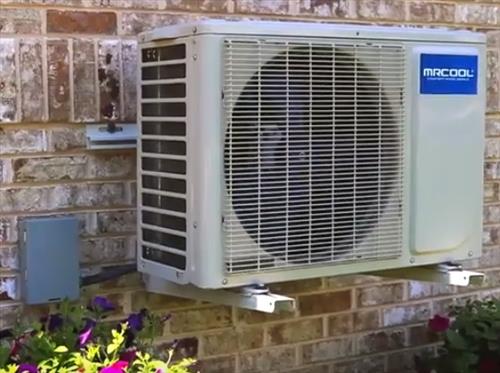 The most common method for installing a mini split outside condenser is on the ground, but it can also be installed on a wall.
There is no single way to install a mini split, with each install different needing to match the home and climate.
Both methods have their pros and cons.
Pros and Cons of a Mini Split Located on the Ground
No Mounting Brackets
Easier Installation
Cons
No Protection from Animals
Snow Can Pile Up
Weeds Need to be Cleared
Installing a mini split on the ground is the most common location of a unit.
The downside is there is no protection from pets or other animals.
In cold climates, snow can pile up more easily in a unit, and weeds and other debris will also need to be periodically removed.
Pros and Cons of a Wall Mounted Mini Split
Keep Snow Off which can Affect the Unit
Keep Animals Away
Keep Clear of Weeds and Dirt
Cons
Possible Wall Vibration
Look and Feel
Needs to be Properly Mounted
The main advantage of a wall-mounted unit is keeping snow off as well as animals away.
Areas with heavy snowfall during the winter often use wall mounts since a unit buried in the snow will have problems operating.
Dirt and weeds can also get in the way of a mini split working properly with a unit higher off the ground not having this problem.
The downside is possible noise vibrations along with the look needing to match a home.
A unit properly mounted on a solid wall should have minimal noise.
The unit will need to be well mounted on studs or bolted into a brick or cement wall.
Should You Install a Mini Split with a Wall Mount or on the Ground?
Since every home will have a different scenario with the weather, look, and other factors, there is no single best way.
A home located in a location with heavy snowfall will benefit from mounting a unit higher off the ground.
A home located in a moderate climate but away out in the countryside may benefit from keeping animals away.
These are simply some examples with no doubt many other scenarios.
Have you installed a mini split system on an outside wall? Let us know your experience below in the comments.
Does a Mini Split Need to Be Off the Ground?
A mini split can be mounted at least a few inches off the ground, so rainwater drains away.
A small cement pad can be poured, or the unit can be mounted on bricks.
There are also small cement pads that can be bought which are very popular for setting a mini split unit.
Where Should a Mini Split Outdoor Unit Be Installed?
The outdoor unit can be installed on the ground using a pad or on a wall using a bracket.
A unit can also be installed on a roof which is a popular option for large buildings with flat roofs.
It will need to be within reach of the line-set that is run from the indoor unit.
Line-set length can vary based on the kit bought, with most between 16 and 25 feet.
How To Install a Wall Mounted Mini Split
The first step is to examine the wall and see how the bracket will be bolted on.

Walls made from a wood frame will usually have studs every 16 inches.

A cement or brick wall will need anchor bolts.


Next, the right size and style bracket will need to be bought.

There are many different sizes and styles available simply find the best one that will match your unit.

Example Mini Split Outdoor Wall Bracket on Amazon
Outdoor Mounting Bracket for Ductless Mini Split Air Conditioner Heat Pump Systems, Universal, 9000-36000 Btu Condenser