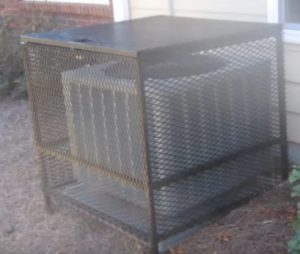 Securing an air conditioner with a security cage kit is something that can be done to help prevent a unit from being stolen or vandalized.
How to Secure Air Conditioner Unit from Theft?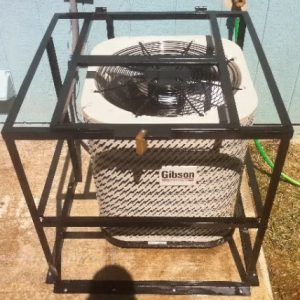 The outside condenser can be protected from theft by a security cage.
Security cages come in all shapes and sizes and can even be built by someone with welding skills.
Most kits use metal bars to prevent theft, while more secure units combine a metal mesh screen for added protection.
How to Secure Air Conditioner Unit from Vandalism?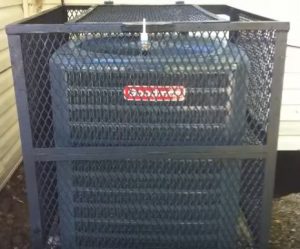 Securing a unit with a metal cage is good at preventing theft, but vandalism can still occur.
For more security, the outside condenser can be covered in a steel cage with a metal mesh wrapped around the unit.
This can be good in scenarios when a unit is located close to a busy street or sidewalk.
The type of cage needed will need to be thought out with each location being different.
Where Can I Buy an Air Conditioner Security Cage?
Air conditioning Security Cages can be bought at online on Amazon, eBay, or elsewhere.
One can also be built by a DIY person with welding ability.
The first step before buying a security cage is to measure the dimensions of the unit.
After the dimensions are had, a cage that will fit around the air conditioner can be bought or welded together.
There are many options online, with a few examples below.
Example Air Conditioning Security Cages on Amazon
Property Armor X90MS

Property Armor X90MS Mini Split Security Cage


AC Guard ACGU

AC Guard ACGU Not Applicable Security Cage


Ac Protection Cage
Summary
Having a security cage around the outside condenser of an air conditioning system can be good to have in many scenarios.
If you have some skill in welding, building your own cage is a good option.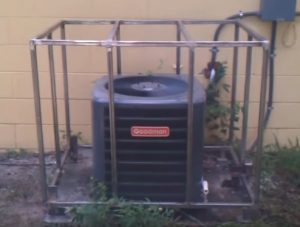 Building your own cage will require some skill but can be a real cost-saver.
Most all cages are bolted to a cement pad but they can also have the legs placed in the ground and cemented in place.
The idea is to make sure the cage is mounted well enough that it will be difficult to remove.
If you build a unit yourself, it is a good idea to weld the thread on any bolts so a potential thief will not be able to unbolt the assembly.
Security cages are also available for Window A/C and Mini split units.
Whichever route is taken, building a cage or buying one can go a long way in helping to prevent theft and vandalism of an HVAC unit.