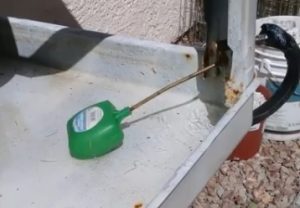 A step-by-step video is at the bottom of the page if needed .
Replacing a Swamp Cooler Float is an easy task that most home DIYers can do.
A bad Float will leak water and not cut the water supply off when the cooler is full.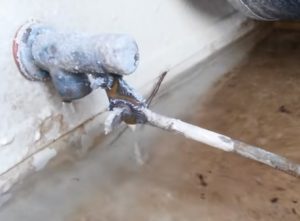 An evaporative cooler float works basically the same as a toilet bowl float, with the water lifting a bulb that shuts off a valve when a set water point is reached.
Sometimes they will simply need an adjustment to get working again. Even if they can be adjusted eventually they will need to be replaced and are low cost items to purchase.
The location of the evaporative cooler will matter as a unit located on a roof or other hard to reach spot will need to be taken into consideration.
If in doubt always call a professional.
A new float will be needed which can be bought at a local hardware store or online.
Swamp Cooler Float on Amazon
LASCO 05-1053 1/4-Inch Compression Evaporative Swamp Cooler Economy Float Valve

Steps To to Replace a Swamp Cooler Float
Remove the Swamp Cooler doors to get access to the float.

Turn Off the water to the cooler.

Remove the water line attached at the back of the float.

Remove the nut holding the float in and pull it out.

Insert the new float.

Tighten the nut that holds it in place.

The float should be set pointing down.

Hook back up the water supply line.

Turn the water back on and adjust the float if needed.
Summary
Replacing a Swamp Cooler Float is an easy task with the right tools.
Often the bolts can become rusted up depending how old the unit is making them hard to remove.
If the bolt is difficult to remove using WD-40 or similar can help to get a rusted nut off.
Often the most difficult part of replacing a float is the location of the cooler. For example, a unit on a roof will be more difficult to get to.
If the float needs adjusting try not to bend it too much one way or the other as most need a simple tweak to work right after installing.
As always be safe and call a professional if need be.