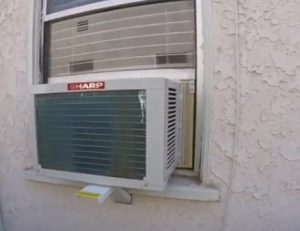 Supporting a window air conditioning unit is always a good idea to give it support and prevent it from falling, along with protecting the window sill itself.
Several types of brackets are available to hold a window air conditioner unit in place.
The AC Safe window brackets are one such popular style bracket and the one we use below to hold a unit.
Brackets are bought on how much the air conditioner weighs, with up to 160-pound versions.
Example AC Safe window bracket on Amazon
A/C Safe AC-160 Universal Heavy Duty Window Air Conditioner Support

Installing a window AC bracket falls in the DIY category but as always, call a professional if in doubt.
How To Install a Window Air Conditioner Support Bracket
Find the center of the window sill and mark it.

Small blocks come with the unit that needs to be screwed into the window sill.

One block will be angled so the bracket can be leveled.

After the blocks are in place, use screws in the top bracket bar.

Next, mount the bottom bar, which has holes for a bolt to slide through.

Screw in the bottom bar screws and slide the bolt in the best spot so the unit will be level.

After the bracket is installed, place the A/C unit on it.
Summary
Installing a bracket to hold a window air conditioner in place is a good safety measure from falling and can help protect the window sill from damage.
It can also help stop vibrations which can quiet a window unit from making more noise than it should.
Leveling the unit is often the best method, but some do lean a unit away from home to keep condensation and rain draining away from the room.
Since there are many different styles of windows, sometimes modifications need to be done, depending on how it was built.
While installing support is a DIY job, call a knowledgeable friend or a professional if in doubt about doing it yourself.