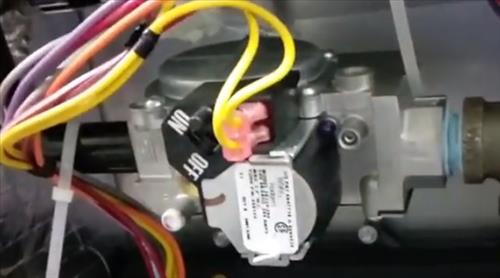 Converting natural gas to propane or propane to natural gas is the same processes by installing new orifices, springs and possibly other components.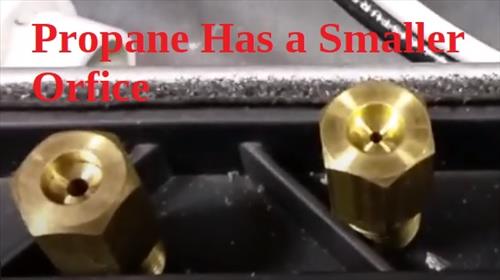 It involves changing out the correct-sized furnace orifices/jets and the gas valve spring.
Always follow the instructions for the furnace being worked on as there can be differences between units.
The same procedure is done to switch between gas types.
Propane gas usually has a regulator at the tank to regulate the gas pressure, while gas from the city is usually stepped down in stages.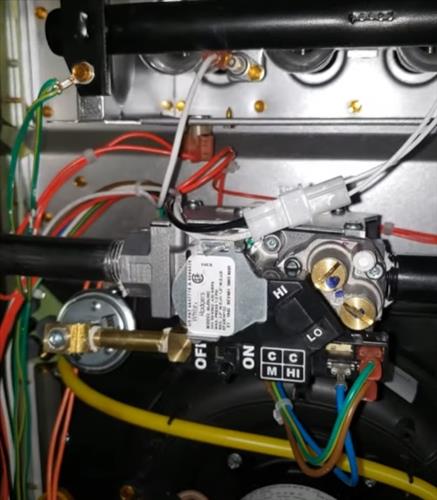 Many newer furnaces often have the parts (orifice and spring) to convert a system in a small packet somewhere in the control box or with the instructions.
If you don't have the parts, a conversion kit will need to be ordered.
An experienced technician can solder or braze the tips of the orifices and then drill out the correct diameter needed. It is difficult to get the correct diameter needed, even for an experienced technician.
Buying the correct propane/natural gas conversion kit and following the instructions for your furnace are key.
Propane burns hotter than natural gas, so the orifices need to be smaller, allowing out less gas.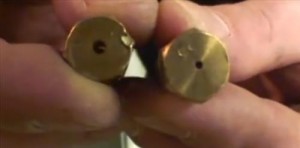 A furnaces heat exchanger, which is where the flames burn, is rated up to a certain temperature.
If the temperature goes over the rating for the furnace, the heat exchanger can become cracked and allow carbon monoxide and other toxic gasses to enter a home.
Example Gas Conversion Kit on Amazon
GRLP4 LP Gas Conversion Kit | Propane Orifice | Gas To Propane Conversion Kit | 12 PCS | Brass

Furnaces can vary in the steps needed for a gas conversion so be sure to always follow the units manual.
Basic Steps for Converting a Furnace to Propane Natural Gas
Turn the gas and power off to the unit.
Take pictures and write down the wiring connections to the gas valve.
Disconnect the gas valve.
Locate the orifices/jets and with the correct size wrench remove them.
Install the new orifices.
Locate the spring in the gas valve.
Remove and replace the gas valve spring with the replacement.
Refer to the units manual for any other possible changes.
After the conversion is done to a furnace, it should have the pressure set correctly with a water column manometer.
Propane units run around 9 to 11 inches, and natural gas runs around 3 to 4 inches. Again this will depend on your furnace documentation.
Converting from natural gas to propane involves steps that may differ from manufacture to manufacture because of design differences of propane gas valves.
For example, converting from natural gas to propane gas will include changing the regulator pressure, installing smaller main burner orifices, and installing a new pilot orifice; this process may also include changing the ignition control module to 100% shut off module because propane gas is heavier than air.