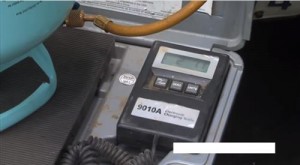 Having a good refrigerant scale is an important part of any HVAC techs job.
Knowing the exact amount of refrigerant that is added to a system is crucial in getting a job done right.
What is a HVAC Refrigerant Scale?
An HVAC refrigerant scale measures the amount of refrigerant that has gone into a system by weight.
Since all HVAC systems need a set amount of refrigerant to work measuring the correct amount is very important.
Too little or too much and the unit will not work correctly.
Every system has the amount of refrigerant needed labeled on the unit or in a manual.
So what is the Best unit?
With the many units available there is no-doubt many opinions on what is the best.
Below is our picks for best HVAC scales.
Be sure to read the reviews on Amazon, forums, or elsewhere to be sure a unit is a good fit for you.
*This post contains affiliate links which at no cost to you allows us to earn a commission on product purchases.
Our Picks for Best HVAC Refrigerant Scale
Robinair TIF9010A

Robinair TIF9010A Slimline Refrigerant Electronic Charging/Recover Scale

The best HVAC refrigerant scale is a question that no-doubt is arguable, but in my opinion the Robinair TIF9010A Slimline is the best refrigerant scale around.

The design had been around for years and used by HVAC techs old and new, so there is no questions about how it works.

Anyone who works in HVAC industry has definitely seen one of these as they are the most widely used.

The case is solid and is meant to be used for years. The layout is simple with the tank sitting on the pad and a removable display to show the refrigerant tank weight.


But the most important fact is its durability which is what sets apart a HVAC scale from a standard scale.

A Refrigerant Scale must be able to take the wear and tear that a regular scale can't give all the while being able to give exact weight measurements.

And the Robinair TIF9010A can give some exact weight measurements. I have even used mine to calculate online shipping cost.

It has a 110 Lb capacity so can handle both 30 and 50 Lb cylinders with no problem.

It can display Pounds, ounces or Kilograms.

It is powered by a standard 9 volt battery that last a long time.


Mastercool 98210

Mastercool 98210-A Electronic Refrigerant Scale

Mastercool is another top tool manufacture that makes the 98210 unit.

It has many nice features such as a 240 pound bottle capacity, programmable alarm, and auto off.

The keypad and display is on a long cord that has a good reach.


Kozyvacu

Kozyvacu 220lbs Digital Electronic Refrigerant Charging Weight Scales for HVAC/Auto AC Refrigerant Recovery Processing with Backlighting LCD display, free 9V battery and a Portable Carrying Case

This unit from Kozyvacu is low-cost and good for anyone on a budget.

It comes with a heavy carry case, runs from a 9 volt battery, and has a display with a long cord.

Summary
Overall, from my own experience, I would say if you're a HVAC tech looking for a good basic and accurate digital refrigerant scale for charging and recovery, this scale will meet your needs.

There are of course many other units so be sure to chop around for one that fit you.