A draft inducer motor and pressure switch work together to make sure toxic gasses are vented from a furnace.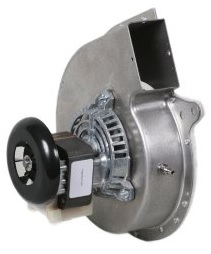 When a unit turns on one of the first component to start is the inducer motor. The inducer motor is a small fan that pulls air from the combustion chamber and vents it out of a home.

When the inducer motor is running it creates small vacuum inside the furnace combustion chamber.

For safety, a pressure switch is used to tell if the inducer motor has turned on. It does this by sensing the vacuum that the inducer motor creates and closes a switch.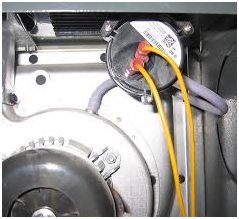 If the inducer motor does not turn on then the pressure switch stays open and keeps the gas off.

When a inducer motor goes bad they will either stop spinning or get out of alignment and make noise when they spin. The motor and the fan blade are balanced and aligned at the factory, so if you have to buy a inducer you will have to buy the whole assembly.

Furnace Draft Inducer Motor on Amazon.
Fasco A143 115 Volt 3000 RPM Furnace Draft Inducer Blower


To test the pressure switch a multimeter needs to be used and measure the continuity of the switch as it opens and closes.

This is done by taking the two wires off the pressure switch and touch them with the multimeter leads. The multimeter should be set to read continuity.

The furnace is turned on and the draft inducer motor will begin to blow the air out the vent and create a vacuum. The vacuum should be measure by the pressure switch which will close the switch inside of it. A multimeter will see if there is any change and if the switch closes or not.

Furnace Pressure Switch On Amazon.
FURNACE PRESSURE SWITCH ONETRIP PARTS® REPLACEMENT FOR YORK COLEMAN EVCON LUXAIRE S1-02435261000


Here are the steps.
1…The two wires on the pressure switch are disconnected.
2…A multi meter is set to read continuity and the leads placed on the switch.
3…The furnace is then turned on.
4…If the switch is working it will close and show on the meter.
5…If it is not working then it will not close and the meter will not change.

If the pressure switch test bad keep in mind that the diaphragm needs to see a vacuum or it will not work. Often when this happens something is clogging the line to the switch or stopping air from the inducer motor from being vented.