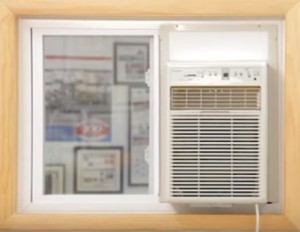 If you have a tall and narrow horizontal window and need an air conditioner to fit into it, there are several types of units available.
Specific air conditioner units are made called Slider or Casement air conditioners that will fit into a vertical sliding window.
Buying an air conditioner for a window that opens side-to-side is not difficult as units are built specifically for this.
Are There Air Conditioners for Horizontal Windows That Open Sideways?
Yes, there are specifically built window units called Casement Window Air Conditioners that are made for sideways opening windows.
Casement units work the same as a standard unit, only in a differently built package.
The package is built to fit into a window that opens sideways.
What is a Casement Vertical Sliding Window Air Conditioner?
A Casement Window Air Conditioner is a unit built into a package that will fit into a tall narrow window.
Most window air conditioners are built to fit into a wide window since these types are the most common.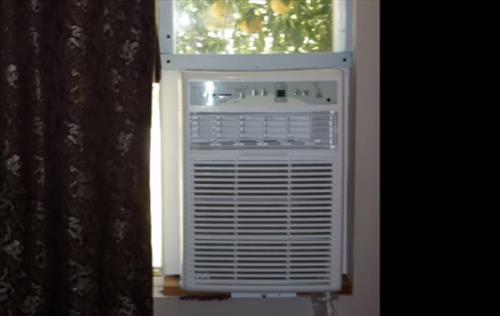 For this reason, most window air conditioner units are built wide instead of vertically.
Air conditioners that are built to fit into a window that slides side-to-side are caller Slider or Casement units.
While casement-style window air conditioners are not as numerous as standard units, there are units available with some of our favorite picks below.
As always, be sure to read the reviews on Amazon or elsewhere to be sure a unit is a good fit for you.
*This post contains affiliate links.
Our Picks for Best Air Conditioners for a Sliding Window
Frigidaire FFRS1022R1 Casement Air Conditioner

The Frigidaire FFRS1022R1 is an AC unit built specifically for slider windows.

It is a 10,000 BTU unit and uses a 115 Volt wall outlet for power.

Features include Energy Saver mode, Auto cool, Sleep mode, 4-way air direction, washable filter, check filter alert, and more.

It is rated to cool 450 Square feet of space, and it also comes with remote control.

Frigidaire FFRS0822S1 Casement Air Conditioner

The Frigidaire FFRS0822S1 is a smaller version of the FFRS1022R1 with a rated 8,000 BTU of cooling capacity.

It is rated to cool a space up to 350 Sq. ft making it a good unit for small rooms.

It also has many features such as multiple fan speeds, timer, sleep mode, and more.

Perfect Aire 3PASC10000

The Perfect Aire 3PASC10000 is a slider window air conditioner with many good features.

Features include Three Fan Speeds, Sleep Mode, Programmable Timer, Digital Display, Adjustable Louvers, Washable Filter, and more.

It is a 10,000 BTU unit which is large compared to a standard window AC unit.

The unit is rated to cool a space up to 450 SQ Ft.


Koldfront CAC8000W

This slider window unit from Koldfront is a 115 volt 8000 BTU unit.

Features include a digital display, dehumidifier, sleep mode, 3-fan speeds, remote control, and more.

The efficiency energy rating is EER 11 and it can cool a space up-to 350 square feet.

Keystone KSTSW10A Slider Casement Window Conditioner

The Keystone KSTSW10A is a 10,000 BTU unit rated to cool a space up to 450 sq. ft.

It has 3-fan speeds and 4-way air directional controls.

It also has a washable filter that can be rinsed out when it becomes dirty.
How to Measure and Fit a Sliding Casement Window Air Conditioner
All air conditioners will have the measurement in inches on the purchase page.
The measurement will be listed as Width x Heights x Depth.
For example, the Keystone KSTSW10A casement unit is listed as 23.5 x 20.87 x 14.57 inches.
This would be 23.5 inches Wide x 20.87 inches Tall (Height) x 14.57 inches in Depth.
It usually is best to round up and give a bit of extra space to be sure the unit will fit.
How Efficient is a Sliding Window Air Conditioner?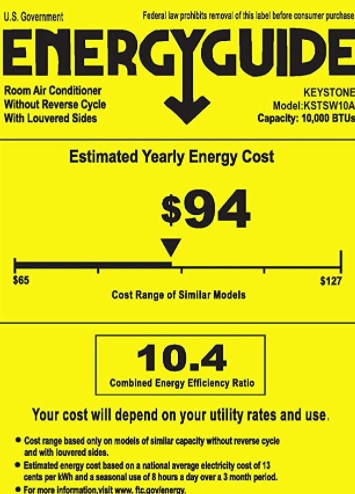 All window AC units are not built for high efficiency but for easy installation.
With that said, many newer units have started to become more efficient and save on energy and cost to operate.
Some units have features such as Energy Saver mode, which can help to reduce costs.
To see how efficient a unit is, it will have an EER (energy efficiency rating) which will show how well it will perform.
A common EER rating is 8-12, which will also show estimated yearly energy costs compared to other models.
If you are looking for the most efficient energy star unit to get, go with the model with the highest EER rating, as higher the better.
How To Install a Sliding Window Air Conditioner
Installing a Sliding Window Air Conditioner requires using brackets to hold it in place.
The unit must be secure so that it does not fall out and cause damage.
Brackets will be included in the kit, along with screws to bolt the bracket in place.
Every unit will have its own instructions and should come with a guide for how to install it.
YouTube is also a good place to check for how to install a unit.
Summary
The above are a few examples of window air conditioner units that can fit into a window that slides side-to-side or a vertical window that is narrow and tall.
Vertical window AC units are not common, but a few are available.
The two main things to keep in mind when buying a slider air conditioner unit are the dimensions and the power needed.
Be sure to measure the window the unit will be placed in to be sure it can fit and match them to the unit's size.
Also, the correct power outlet needs to be provided, or the unit can not work. While most are 115 volts, some come larger packages come with 220 volts which is not a common wall outlet.
Two hundred twenty volt units can provide more cooling capacity but will need a power line to run it. A 220-volt line can be run to a unit but will cost more money if one does not already exist.
Most 220 volt outlets in a home are set up for an electric water heater or electric clothes drier.
Keep in mind there are other options to cool a room, such as a Mini Split unit or a portable system which are popular.
Portable and mini-split units often cost more but have their benefits over a standard window air conditioning unit.
For example, a portable unit can be moved to any room and use a large hose to pump out hot air from a room. This makes them more versatile and easy to set up.
A mini-split unit is built to last a long time and fit into a home nicely by not taking up much space. They are quieter also since the main components are located away from home.
Do you know of a good casement vertical sliding window AC unit? Let us know in the comments below.