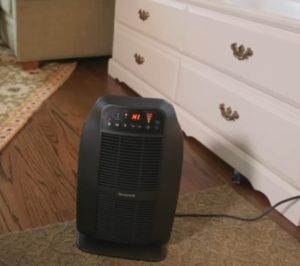 Electric space heaters are a nice convenience but can be annoying if they are loud buzzing or hissing while putting out heat.
Having a quiet electric space heater can no-doubt help make a home more comfortable.
So what are the quietest space heaters?
There is different types of technology used with space heaters making some less noisy than others.
Below is some of our picks for quiet electric space heaters.
As always be sure to read the reviews on Amazon or elsewhere to be sure a unit is a good fit for you.
*This post contains affiliate links.
Our Picks for Quietest Electric Space Heaters
DeLonghi EW7707CM Safe Heat

DeLonghi EW7707CM Safe Heat 1500W ComforTemp Portable Oil-Filled Radiator

Oil filed space heaters work by radiating out heat from the unit.

They work well, are quiet, and are good at maintaining a rooms temperature.

They also are one of the more cheaper type of units to run and use less electricity than many other types.

Since the heat is radiated out and no fan is used they work quietly sending out heat.

DeLonghi HMP1500 Mica Panel Heater

DeLonghi HMP1500 Mica Panel Heater

Flat panel heater have become very popular since they work quietly and can be mounted in different ways.

They can be mounted on wheels and rolled about or mounted on a wall which clears up more space.

They are quiet units and have most have safety features such as thermal cut-off, so it doesn't overheat, and internal tip-over switch.

Dr Infrared Heater

Dr Infrared Heater Portable Space Heater, 1500-Watt

Infrared heaters are also quiet to use and work very well.

The most popular is Dr Infrared but there are many units available.

Units like Dr Infrared have low noise blower to push out heat which makes them very silent. They also heat up a space quicker than older ceramic element type units.
What Makes a Space Heater Quiet?
Radiated space heater are usually the quietest units since there is no moving parts.
Most radiated units are oil filled and once heated up radiate hot air from fins.
Oil can sometimes make noise as it heats up but usually stops one working.
Infrared heaters are also popular quiet units but most have a fan that can make noise at times.
Summary
There are many types of quiet space heating units with those above simply ones we have found to work well.
If you have a loud unit there are many low-cost affordable models to pick from that make little to no noise.
Be sure to read the reviews on a unit on Amazon or elsewhere to be sure a unit is a good fit for you.