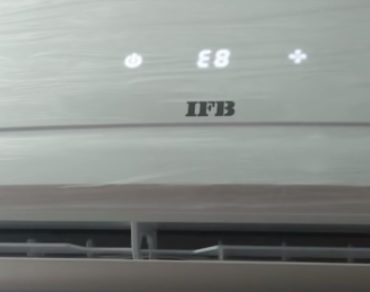 If an E8 error code displays on a mini split there are a few things a DIY type person can do before calling an HVAC tech.
Of course, if in doubt, always call a professional. Below are the things to check and reset an E8 error code.
There can be a difference in errors depending on a manufacturer and model, so always verify your mini split error code with the manual for the unit.
What is an E8 error Code on a Mini Split?
An E8 error code is a Fan Speed Malfunction.
When the indoor or outdoor fan speed remains too low for a certain time, the unit will stop, and the LED will display the E8 failure.
What Causes an E8 Code on a Mini Split?
Dirty Indoor Air Filter
Faulty Fan Motor
Wiring
Blockage at Outdoor Fan Motor Assembly
Bad Control Board
How To Reset an E8 Mini Split Error Code
Power off the unit and turn off the breaker or disconnect.
Wait 2-3 minutes and power the unit back on.
Power resetting the indoor and outdoor units at the breaker will reset the error.
If the error codes come back, more troubleshooting will need to be done to find the problem.
When the error codes does not clear, a component has failed, or there is a wiring issue.
Troubleshooting an E8 Error Code
Check Fan blowers on indoor and outdoor units.
Check indoor unit air filters are not dirty and blocking airflow.
Check fan rotation with it able to spin.
Check the fan motor wiring.
Check the fan motor electrical voltages.
Test fan motor.
Check the PCB board.
Summary
Above are the basic steps a homeowner can do to fix an E8 error code.
An E8 error usually indicates a fan problem with the indoor or outdoor unit.
An E8 error is usually cleared by power cycling both the indoor and outdoor unit by turning the power off at the breaker.
Be sure to check that the indoor air filters are not dirty and blocking airflow from the fan.
Checking that the fan is not blocked and spinning freely is usually the most a homeowner can do before calling a professional.
The wiring voltage and PCB board will need to be checked for more advanced troubleshooting.