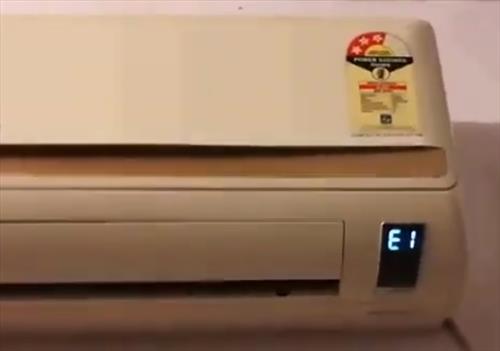 If you have a mini split that gives an E1 error code, there are a few things to check before calling an HVAC company.
Several things can cause an E1 error code on a mini split, and of course, the error can be manufacturer specific.
The most common fix is to turn the unit off at the breaker for 2-5 minutes, resetting both indoor and outdoor condensers.
There can be a difference in errors depending on a manufacturer and model, so always verify your mini split error code with the manual for the unit.
How To Clear a Mini Split E1 Error Code
Power off the Unit.
Turn the power off at the breaker for 4-5 minutes, resetting the system.
Turn the power and mini split back on, and see if the error goes away.
Resetting the whole system is the first step and often solves the problem.
If the error comes back, below are things that can be checked.
4 Common Causes of E1 Error Code on a Mini Split
Dirty Air Filter


Many units will give an E1 code to remind a homeowner to clean the filter.

The filter is located in the inside unit, usually under the door or on the very top.

They can be removed and cleaned with water.

After cleaning the filter, install it back into the unit and reset it again to see if the error code clears.

Loose Wiring Connections


Sometimes a wire can become loose, causing a bad signal and with the power off checked.

Both the inside and outdoor unit plugs can be checked to see if any wires have become loose.

Often a loose connection won't be visible and need each plug pushed on to check.

Communication Problem Between the Indoor and Outdoor Units


The inside and outside units have a 4-8 wire communication line that goes between the two units.

The communication line and voltage lines can be checked to be sure they have a good connection.

Be sure the power is off before opening the panels.

Bad PCB Board


The PCB boards can also cause an E1 error.

If this is the problem, it is likely time to call an HVAC tech to test it.