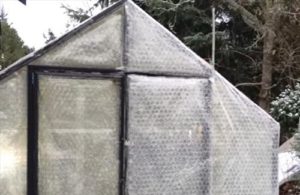 The best heater for a greenhouse will vary from unit-to-unit as to climate, cost, and how well the greenhouse is built.

In my opinion a gas or electric heater is the best to use, but for another a wood burner may be a better option.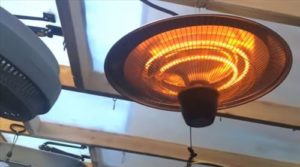 I live in the desert with no ready supply of wood, plus I don't like the idea of waking up at 1:00 AM to add more wood to a stove.

What works for one person may not work for another so lets look at some popular options for heating greenhouses.

Be sure to read the reviews on Amazon or elsewhere to be sure a unit is a good fit for you.

*This post contains affiliate links which at no cost to you allows us earn a commission on product purchases.

…….
Dr. Heater DR218-1500W Greenhouse Garage Workshop Infrared Heater, 1500-watt

The Dr. Heater DR218 is an electric unit with a fan and thermostat control.

It comes in two sizes, the standard 120 Volts unit, and the larger 220 Volt unit.

It has a waterproof rating of IPX4 which is rated to withstand splashes.

…….
Mr. Heater F232000 MH9BX Buddy 4,000-9,000-BTU Indoor-Safe Portable Radiant Heater

Mr Buddy is a very popular gas heater.

It has a lot of nice features such as tip-over protection which shuts the unit off in such an emergency.

The gas bottles are not large like other gas units but its popularity makes it a top pick.

…….
Dyna-Glo TT15CDGP 15,000 Liquid Propane Tank Top Heater – CSA

Propane gas heaters are also popular since they are cheap to run and can put out a lot of heat.

The problem with any gas unit is there must be some ventilation as they put out a lot of CO2 which can be dangerous to people.

Be sure to read the warnings and instructions before using such a unit.


Summary
Since heating a green house in the winter can be the biggest expense often using a combination of heating units is the best option.

Having a thermostat is a must for leaving a unit operating overnight, along with other features such as tip-over-shut-off protection.

Having fans that circulate the air is also important.

A wood burning stove can be a good option if you have a ready source of wood to burn. Keep in mind how much work will be involved though in cutting, splittings, stacking and so on.

How well a greenhouse is built and how high the roof is can also have an impact. Since heat rises a high roof will hold the heat higher up.

Whichever unit is chosen be sure to be safe and follow the instructions that come with your heating unit.