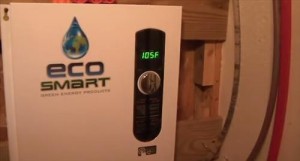 Instant hot water heaters are a niche market that caters to the on demand hot water market.
There are many reasons to buy a tankless hot water heater and what fits one person may not fit another scenario.
One reason I have often heard is that it saves money, which is true but again depends on how it is used.
In a household with few people keeping a 30-50 gallon water heater constantly running to heat water may make no sense.
While a home with a large family having a big water heater may be more sensible.
On demand tank-less water heaters will not save money if they are used constantly.
Instant hot water heaters save money since the user has no need to run a water heater 24-7 but still wants hot water when needed.
Tankless water heaters work by using a lot of electricity in a instant to heat water. This can run up a electricity bill and provide no savings if used constantly.
Another thing to keep in mind is does your home have the wiring to install a tankless system.
The average tankless hot water system needs a 60 Amp breaker with 6 gauge wire.
Many homes may already be wired for this while some are not. Running a new breaker and wiring is always a option but will add to the cost.
For homes that dont want to use electricity there are natural gas tankless water heaters that do the job just as well as electricity.
There are many people who love tankless water heaters and they definitely have their place.
Our Picks for the Best Electric Instant On Demand Hot Water Heaters
Rheem RTE 13 Electric Tankless Water Heater

Weight 7.4 pounds
Dimensions 7.2 x 7.2 x 7.2 inches
240 volt
13,000 Watts

EcoSmart ECO 27 Electric Tankless Water Heater

This unit has patented technology that allows for on demand hot water which they state can cut electric cost by 50 percent.
Weight: 17 pounds
Dimensions 20 x 20 x 6.5 inches
240 volt at 27 KW

Rheem RTG-64XLN 6.4 GPM Low NOx Outdoor Tankless

Here is a unit that uses natural gas instead of electricity to heat water up quickly.
Weight 38 pounds
Dimensions 14 x 10 x 26 inches