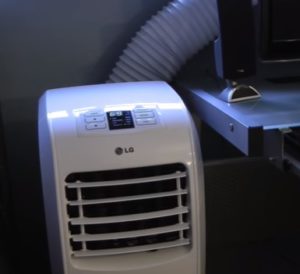 A loud portable air conditioner unit can be a distraction in many ways.

One of the problems with portable units is all the main components are combined into one package.

Standard central air most homes have separate the components outside so that a unit can run quieter than a portable model.

Keep in mind there are small home units called mini splits units that are much more affordable than a entire home A/C package.

Mini split models run very quite since all the main components such as the compressor are located outside away from a home.

With that said there are some portable models that makes less noise than others. While they will always make some noise lets look at the quietest unit we have found in 2016.

As always be sure to read the reviews on Amazon or elsewhere to get the best unit for you and your home.

Our Picks for Quiet Portable Air Conditioners 2017

LG Electronics LP0910WNR 9,000 BTU Portable Air Conditioner with Remote Control – White

LG Electronics makes this popular unit.

It can cool a space up-to 200 square feet and also dehumidifies the space.

It has two speeds that when it is on high can be a noisy unit. On low the noise is less so and it makes less sound than many other models.

The fan is what makes the most noise as the compressor like other models makes noise when it first kicks on.


……….
Whynter 14,000 BTU Dual Hose Portable Air Conditioner (ARC-14S)

The Whynter ARC-14S is a dual hose unit that has three fan speeds.

It is a well built unit that hums along nicely when in use.

The noise level is about that of a home fan set on high. While it does make noise it is not so high as not not be able to have a conversations or go about your daily routine.


……….
Haier HPB08XCM Portable Air Conditioner, 8000 BTU

The Haier HPB08XCM is a nice portable unit with three fan speeds and cooling settings.

Much of the noise units make come to how well they are built. Haier does a good job in constructing their A/C packages.

Like other portable cooling it does make some noise but is one of the better units in our opinion.


Summary
Any portable A/C kit will make some degree of noise.

The compressor and fan are the noisiest components and unfortunately are located directly inside the package.

The build quality can go a long way in making everything run smoother and therefore less noisy.

Sometimes rough treatment such as dropping the package or accidentally hitting it will make it start emitting more sound.

Some level of noise should always be expected from a small portable A/C unit.