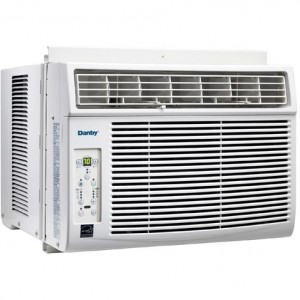 Finding a quiet window mounted air conditioner can be a challenge. Mainly since the noisy components, the compressor and fan, are located directly inside the packaged unit.

Since the compressor is located in the unit and not outside away from the home some degree of noise will always be present.

With that said there are some window air conditioners that have less noisy compressors than others.

The best way to judge how noisy a window air conditioners will be is to read real reviews from real people online.

Keep in mind to get a truly quiet unit there are other ways that are affordable such as mini split systems which separate the compressor outside and then feed lines into a home that circulates refrigerant to a blower motor. Split systems require more effort and skill to set up but are not as expensive as traditional central air conditioning systems used in homes.

Here are the top 5 units we found that make the least amount of noise with links to Amazon to read the reviews yourself.
1…
Haier ESAQ408P Serenity Series 8000 BTU 115V Window Air Conditioner with LED Remote Control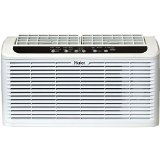 Haier is known for making quiet heating and cooling units.

This unit is a 8000 BTU, 115 Volt unit and uses what is called Cross Flow technology to keep the fan noise level down.

The Haier company also wraps the compressor in a noise suppressant blanket that quiets it down.

The compressor on any HVAC unit often makes the most noise and can be heard kicking on and off as it cycles. Having this component wrapped goes a long way in making a unit run quieter.

The cross flow fan technology also makes the fan run smother and make less noise than conventional fans.

A window unit will always make some noise but this may be the quietest unit available currently.



2…
Frigidaire FRA256SV2 25,000 BTU Window-Mounted Heavy-Duty Air Conditioner with Temperature Sensing Remote (230 volts)

The Frigidaire FRA256SV2 is a quit A/C unit. One of the reasons why is that this is a 220 Volt unit which allows the compressor to run more efficiently.

220 Volts is not common in every room and are mainly used for a electric dryers and electric water heaters. Running a 220 Volt outlet to a room is not difficult but if this is a problem than it will be better to look at other units that use the standard 120 Volts.



3…
Keystone KSTAW05B Energy Star 5,000 BTU Window-Mounted Air Conditioner with "Follow Me" LCD Remote Control, 115-volt
The SPT WA-1211S Window Air Conditioner unit is a 5000 BTU, 115 Volt unit. It has a three speed fan which can be turned to low for the quietest setting.

While this A/C unit may not be the quietest on the list it is a popular window A/C package.



4…
LG Electronics LW8014ER Energy Star 115-volt Window-Mounted Air Conditioner with Remote Control, 8000 BTU

This is a 8,000 BTU, 115 Volt system. While not the quietest when comparing price vs. overall build then it may be the best option for a budget minded person looking for a good unit.



5…
DAC6011E 6,000 btu window air conditioner – Euro Grey

The DAC6011E is a 6,000 btu, 115 Volt unit will not be the quietest unit but should be much better than most other units currently available.



Summary
Window A/C units are not usually built to be the quietest since they are usually budget oriented equipment meant to fill a gap in a cooling system.

Doing basic maintenance on a unit can go a long way in helping it stay running the best it possibly can.

Basic care can also improve the life span of a unit which normally is up-to five years.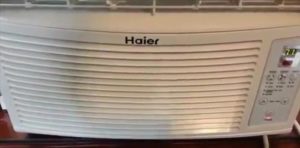 Things such as cleaning the air filter and keeping the outside air fins clean of debris so a unit can blow cold air into a room and hot air away.

As always be sure to read the reviews on Amazon or elsewhere to be sure a unit is a good fit for you.