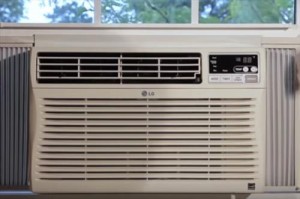 Window air conditioners are a cheap easy way to keep cool on a hot day.

They are also simple to install with minimal skills.

This makes them ideal in a number of situations when the cost or technical knowledge of installing a huge HVAC unit is not needed or reasonable.

So lets take a look at popular units of 2017.

Window Air Conditioner Reviews 2017

Frigidaire FFRA0511R1 5, 000 BTU 115V Window-Mounted Mini-Compact Air Conditioner with Mechanical Controls

The Frigidaire FFRA0511R1 is a small low cost budget window mounted A/C unit that is a upgrade to the popular FRA052XT7 model.

It uses a standard 115 Volt wall outlet and can put out 5000 BTU. It is rated to cool a room 150 square feet in size.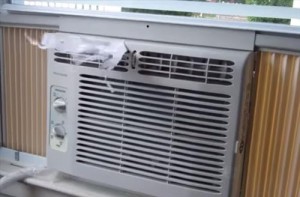 Frigidaire is a known air conditioning manufacture and makes units from small and inexpensive to large high cost models.

This unit is for someone looking to keep cost down and cheap while not draining their bank account.

It is still a good unit and will likely last years, just dont expect it to do wonders and cool large rooms, or rooms not well insulated.

Read full Review Here.


…….
Haier ESAQ406P Serenity Series 6050 BTU 115V Window Air Conditioner with LED Remote Control

If your worried about the noise levels a window air conditioner makes than the Haier ESAQ408P Serenity Series is a good option.

Haier wraps the units noisy compressors in a noise suppressant material that makes them very quite for a window A/C unit.

It is a 115 Volts 8000 BTU model that can cool a room up-to 350 square feet.

Read Full Review here


…….
LG Electronics LW8014ER Energy Star 115-volt Window-Mounted Air Conditioner with Remote Control, 8000 BTU

LG makes many good units with LG Electronics LW8014ER Energy Star one of it top models.

This is a mid-range unit that makes it ideal for a good built unit at a reasonable price.

It can cool a a room up to 340 square feet and uses a 115 volt wall outlet.


…….
Frigidaire FFRS0833Q1 8,000 BTU 115V Slider/Casement Room Air Conditioner with Full-Function Remote Control

For rooms that have vertical windows fitting a A/C unit into it can be almost impossible.

Frigidaire makes this casement room air conditioner to fit these types of scenarios.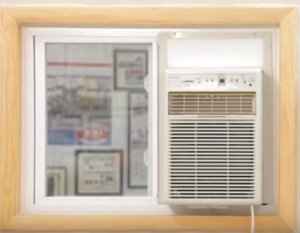 If you have a window that is to tall and skinny for a standard sized unit or slides side to side rather than up and down, than this one may be for you.


Summary
There are many variables to take into account when buying a window air conditioning unit that will be unique to each situation. One person may simply want a cheap unit while another a better built quite unit. With the many to choose from there is no doubt a A/C model to fit any given scenario.

Always be sure to check the outlet close to the window that will be used. While most of the time any wall socket can be used there are some homes that have many electronics drawing current from the same outlet.

If too many electronic are on the same breaker it can become overloaded and shut off. One way to test this is to locate the breaker the window unit will be on and shut it off. All the electronics receiving electricity from the breaker will go off giving an idea of how many things are on the same circuit. Going to the wall outlets in around the room with a electrical device to plug in will also show if any other outlets are on the breaker.

Also be sure to measure the dimensions of the window that will be used to be sure a unit will fit. Small slider insulators are usually included with each unit to take up any open space on the side of a installation.

The setup of most models are easy to do for the average DIY type person and require minimal skills. If in doubt always be sure to higher a professional to do the installation for you.

As always be sure to read the reviews on Amazon or elsewhere to be sure a unit is a good fit for you.