If you need to work on a furnace having a good book about furnace repair is always a good idea.
While the internet has many YouTube videos and web pages that teach parts of furnace repair a book can be much more thorough and detailed.
A good book also has the ability to be a good quick reference guide which can be indispensable at times.
So lets look at some popular furnace repair books. As always be sure to read the reviews on Amazon to be sure it is the right book for you.
Our Picks For Furnace Repair Books 2015
Forced Hot Air Furnaces : Troubleshooting and Repair

This book has been out for sometime, 1999.
It does have good information on older furnace systems such as older gas heating system with a standing pilot.
As most know furnaces can be in use for many years and a lot have old systems still in use.
Understanding and Repairing Gas Furnaces, Simple Furnace Repairs and Fixes, Do It yourself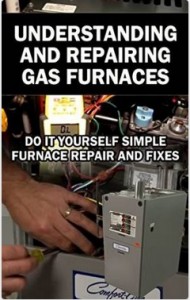 This is a cheap Kindle book that gives a general over view of how a furnace works such as start sequences and main parts.
For general knowledge about furnace repair it is okay for more in-depth book another one may be better.
Easy Furnace Fix-It Guide: Simple Furnace Diagnostic Repair Guide for Homeowners (HelpItBroke.com – Easy HVAC Guides Book 1)

This is another kindle book written by a HVAC technician that may have some good insight depending on your current knowledge.
HVAC Troubleshooting Guide

Written in 2009 this book looks to have more in-depth information on furnaces and has a college text book style approach.
Summary
Quite often one book never covers one topic as well as another does and multiple books are often bought.
Now days with YouTube and many other sources getting sporadic detailed information can always be done.
Having a good book on hand though can help to cover the little things many dont cover online.